Batman: Arkham Knight (NA)
Description
Batman: Arkham Knight – PC update and Refund info - read more here.
Also available: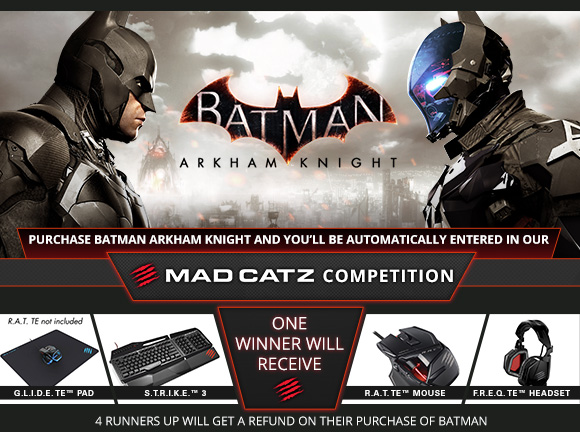 ---
"IN AN ERA OF HAND-HOLDING, ARKHAM KNIGHT IS REVOLUTIONARY" - [Polygon]
"Batman: Arkham Knight is an impressive game on almost every level, with non-stop variety and great action. RT" - [IGN]
In the explosive finale to the Arkham series, Batman faces the ultimate threat against the city he is sworn to protect. The Scarecrow returns to unite an impressive roster of super villains, including Penguin, Two-Face and Harley Quinn, to destroy The Dark Knight forever. Batman: Arkham Knight introduces Rocksteady's uniquely designed version of the Batmobile, which is drivable for the first time in the franchise. The addition of this legendary vehicle, combined with the acclaimed gameplay of the Batman Arkham series, offers gamers the ultimate and complete Batman experience as they tear through the streets and soar across the skyline of the entirety of Gotham City. Be The Batman.
---

The Bat is back! Batman: Arkham Knight arrives as one of the top PC games of the summer! The journey that started with Batman: Arkham Asylum and continued through Batman: Arkham City approaches an epic finale as the Caped Crusader faces off against The Scarecrow, Penguin, Harley Quinn, and the eponymous, mysterious Arkham Knight himself. But this time, Batman won't be fighting alone.
We're excited to team up with the likes of Azrael, Oracle, and Nightwing but perhaps most thrillingly of all, now we get to take the Batmobile for a spin! We can't wait to get behind the wheel and start chasing down thugs on Gotham's streets, before transforming into a bat-tastic tank and unleashing some serious explosive justice. Arkham Knight is shaping up to be the most ambitious game Rocksteady have attempted, and it has all of the tools to live up to the hype.
Customer reviews
85
A fantastic ending to a wonderful series.
chcoman123
|
July 20, 2015
|
See all chcoman123's reviews »
I'm gigantic Batman fan, and I was hyped up since the day this game was announced. I loved the previous games, and I was glad to hear that Rocksteady was making the series again. When the game came it, it didn't disappoint. The previous game's gameplay is still here and it's done better than ever before. The main combat is still great and all the new enemy types are all very interesting. The stealth gameplay is still very good, and the new fear multi takedowns are, while not necessarily practical or amazing, really makes you feel like you are Batman. However, gameplay-wise the lowest point is the Batmobile. It's not bad, and It's interesting to see how it's not only used in puzzles, but combat too. Many people say the Batmobile is too boring and sluggish, and frankly, they're right. Later on, it gets fun and difficult, but at first it's just boring. PLus, the game CONSTANTLY shoves it in your face, and it's so excessive to the point where it begins to feel like your just someone driving a tank, not Batman, which is the number one rule of these games. Story-wise, the game does really well. There's a plot twist early on that makes the game incredibly enjoyable at nearly every point. However the plot twist as to who the Arkham Knight is...is disappointing. Not bad, but disappointing. However, the ending is a great way to end off the series, and overall I don't regret buying this game at any point. And I love it to death. And yes, the PC version sucks and I'd wish they'd patch it too. But I was basing this review on the quality of the acutal game content, rather than the PC port of the game.
50
It's the game we need, but we still deserve better
MadDemon64
|
June 23, 2015
|
See all MadDemon64's reviews »
Batman: Arkham Knight is a good game. Just like the other Batman: Arkham games it is a spectacular game that even at its worst it is still better than most. At least that's what it should be. But right now the PC Edition is a buggy mess, like some other games I can think of at release (coughAssassin'sCreedUnitycough). If you have played the other Batman: Arkham games, you know what you are in for with Batman: Arkham Knight. Solid combat, excellently realized stealth gameplay, and feeling like you really are the Batman. The story this time luckily picks up where Arkham City left off, even though it seems like a rehash of previous Arkham games (Rogues gallery character x is threatening to blow up a bomb in the city that will cause y). However it is hard to tell if this rendition of "big bad hiring someone to kill off Batman" is better or worse than what was done in Arkham Origins. However, the bugs, dear god the bugs. Everything that was wrong with Assassin's Creed Unity in terms of bugs is present in Arkham Knight, with the one exception of the legendary missing face bug. Buy Arkham Knight, but again, buy it later when the bugs have been fixed. Buy it when the framerate is playable. But don't buy it now. Buy it in a month. Or two. Or however long it takes for the bugs to be fixed. This is a great game, just marred with horrendous bugs.
22
Buyer beware: Major performance issues
Parogar
|
June 23, 2015
|
See all Parogar's reviews »
First, this is a criticism of the game and not GMG. GMG is amazing. GMG's prices are the best, and as always, they performed their service to my satisfaction, delivering my preorder code well before the launch so that I could play it at the same time as everyone else. But whereas GMG might've come through for me, this game, however, did not. And it's all due to the wretched, abysmal, CATACLYSMIC ALLY bad optimization that went into it. Even with GTX 780's in SLI, I am getting sub-par performance and forced to play at a capped 30fps (this can be disabled with an INI tweak but results in terrible performance). Until they manage to get this game working decently on the PC, I unfortunately cannot recommend it to anyone for any reason.
60
Not so good
Venhiem
|
June 23, 2015
|
See all Venhiem's reviews »
This game is very highly anticipated. It proved to be a disappointment. The graphics are of course upgraded and made better but they are so laggy. The game is buggy and locked at 30 frames per second. And there is no menu option to change it to 60 frames per second. The music is very nicely made and fun as well as immersive. The story is pretty much on the same lines as other games but interesting. The game is adventure and action/combat based. The combat is great and fun and doesn't get boring. The price is too high right now for the game. The batmobile handling is also awful. I'd say, wait for some patches and fixes and get it on a sale, not worth it as it is now. 6/10.
100
It all ends here!
cpiane
|
June 23, 2015
|
See all cpiane's reviews »
Without Paul Dini heading the story, we still get a satisfying conclusion to an amazing franchise. The combat has been revamped from the ground up, they did not copy and paste any of their previous combat. It feels smoother and more responsive. The map is bigger and more detailed than it has ever been adding new islands. No loading screens to be found. The new gadgets are a treat, and the batmobile is a blast to drive around in, although the tank parts can get a bit boring after the first couple of times. This is still the best action adventure game you will ever play! The game will keep you coming back to collect and find every hidden item, easter egg, and detail that the game will offer. Read up on some new characters, or fight some old. There is plenty to praise about this game, just know that this is one for the record books. A PERFECT GAME IN EVERY WAY!