Dollar Dash Pack
Description
This pack includes:
Dollar Dash

Dollar Dash More Ways to Win

Dollar Dash Robbers ToolKit
---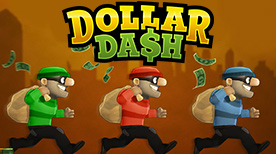 Find it, rob it, and keep it. Grab the cash in this fast and frenetic top down multiplayer versus game. Dollar Dash will have you shouting for joy, as you make a dash with the cash. You must attack, defend or outrun your competitors in any of the three game modes (Dollar Dash, Save the Safe or Hit'n'Run) using unique and comedic tactics.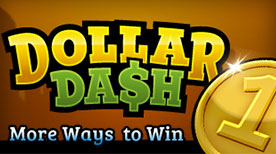 Now unlock a completely new game mode "Topscorer" with six maps and a mass of new exciting in-game shop content, such as a new victory dance, costumes and in-game icons!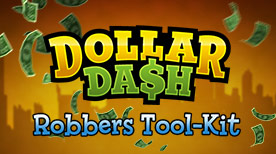 The Robbers Tool Kit offers a wealth of new crazy weapons and upgrades, accompanied by a number of different shop items that are instantly unlocked for you. To top it off there are 2 new maps per game mode.
Customer reviews
72
Great fun party game
lok0812
|
Sept. 10, 2013
|
See all lok0812's reviews »
This package contain a really fun party game of 4. Each player play as one of the thief and the objective is to grab the loots and prevent other players to grab it by attacking them. The game have a lot of different maps and weapons to choose from making it a lot of variety. There are also many other mode besides the grab and run. Player can also play with AI if there are no other friends to player with. The gameplay and control is simple and easy to learn. In addition, this package also contains 2 DLCs that will provide with additional maps and weapons as well as new things to unlock. Great party game to play with friend via online.