Ocean City Racing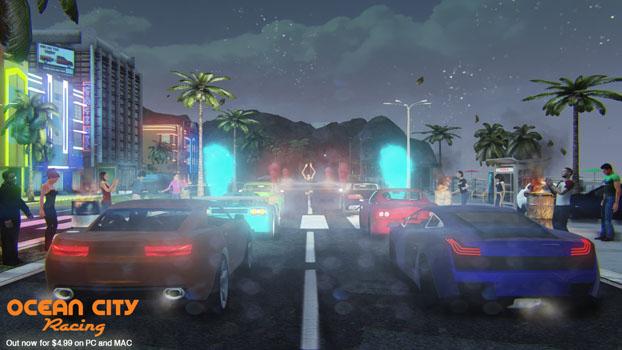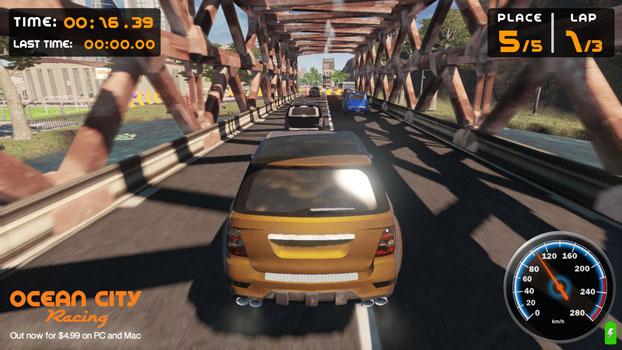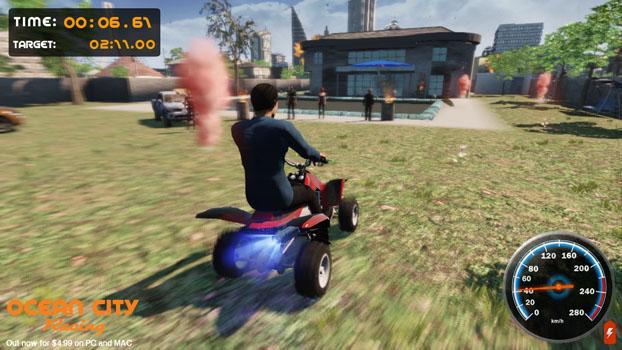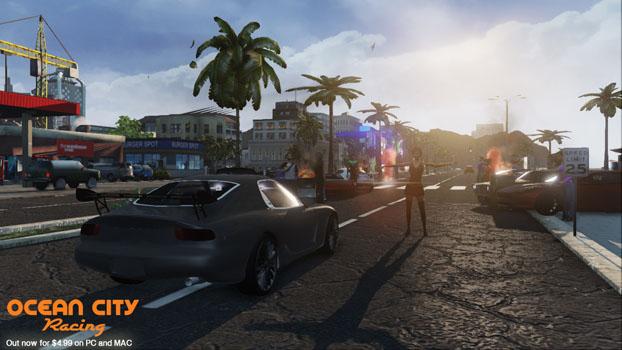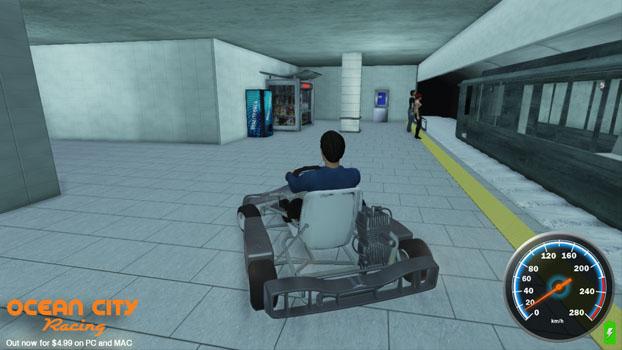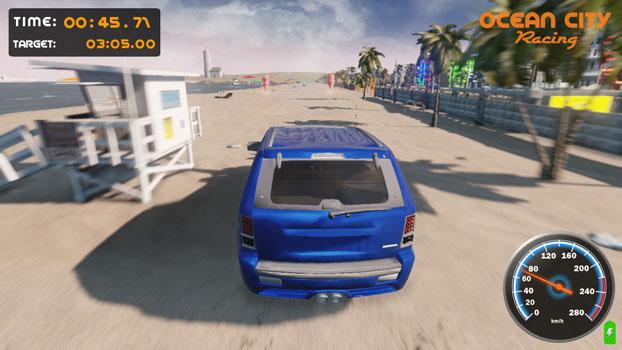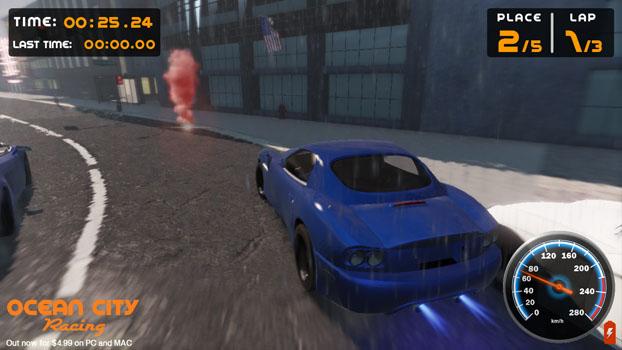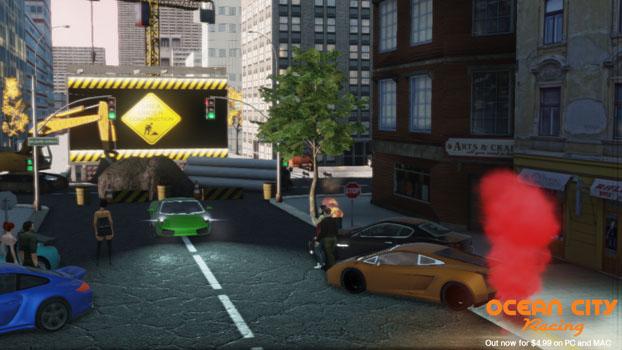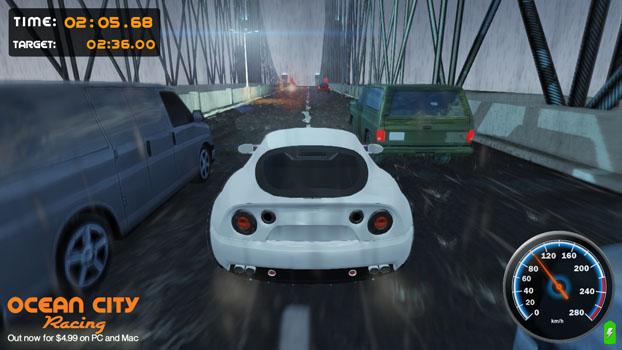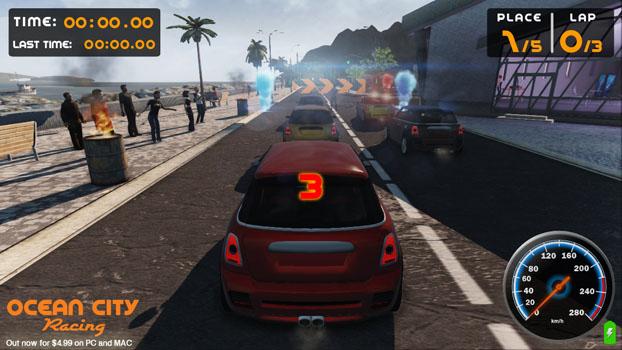 Description
Ocean City Racing is an open world driving game powered by Unreal Engine 3. OCR features the biggest, most detailed and alive open world city , advanced driving physics and highest quality visuals ever seen in a low price indie driving game. Featuring a free roam , time-trial and a race mode on a massive environment.
---
*Features: *
Unreal Engine 3: Powered by the industry leading game engine Unreal Engine 3 , Ocean City Racing offers a massive open world city with a traffic and a pedestrian system , a day & night cycle, dynamic, real-time lighting and shadows, also different weather conditions such as rain,fog , wind and sun.

Advanced Driving Physics: Ocean City features the most advanced driving physics ever seen in an indie racing game. All the vehicles in the game have unique physics and handling.

Open World City and Environment: Apart from the city , Ocean City Racing also features an island which is connected to the city with a bridge and a highway , a tunnel that goes under the Ocean City mountains through another town and a subway system under the city which provides a huge area for the players to discover.

Free Roam Mode: In the 'Free Roam' mode players can cruise around the city either with the vehicles that are scattered around the map , or they can explore the environment by exiting the car with a first person view. Free Roam mode has a lot of secrets to find. You can find and drive a hidden kart or a quadbike and cruise around the city.

Time Trial Mode: In the time trial mode players have the ability to choose one of the many tracks available and try to achieve the fastest time by going through the checkpoint flares and reach the event location.

Race Mode: Become the best driver in the Ocean City by completing this mode. Players will proceed by completing events in the first place and unlock new vehicles as they progress.

Vehicles: Features over 20 highly detailed vehicles to drive. Ranging from sports cars , muscle cars , super cars , off road vehicles. Even a kart and a quadbike can be driven.

Progression : Ocean City Racing allows players to progress through time trials and circuit races and allow them to unlock new cars and events on the way.

Soundtrack: Features songs of Christopher Amott from his 'Impulses' and 'Follow Your Heart' albums , as well as other instrumental and orchestral songs from Kevin MacLeod that fits the atmosphere of the game.
Customer reviews
10
Not worth your time or money
Locke
|
May 31, 2015
|
See all Locke's reviews »
Ocean City Racing has a barebones options menu without proper resolution support, graphics options, volume sliders, or rebindable controls. It has performance issues, overdone motion blue, just generally looks like trash, and plays even worse. The handling is clunky and unresponsive, and the AI finds the game even harder to play than human players, crashing into walls and spinning out just like you. The free roam mode does open the track up a little bit, but is ultimately pointless and doesn't hold your attention for more than a few minutes, nor does it solve the fundamental problems of this flawed game. Give it a pass, don't waste your money.
1
Horrible!
Shaide
|
April 19, 2015
|
See all Shaide's reviews »
Yes, this game is cheap, but there's a reason for it's low cost! The game is garbage! Even for 5 bucks, it's still a rip-off! The game doesn't even feel complete. The game doesn't have any graphic options, though it doesn't really need it, because it would be impossible to turn the graphics down any more than it already is. The worst 5 bucks I have spent on a game ever.
66
Pretty fun racing game
lok0812
|
Nov. 22, 2013
|
See all lok0812's reviews »
This game is similar to any other racing game out there except it is taking place in an moderate size open world similar to Burnout Paradise. THe game features racing mode to pit the player against AI drivers, challenge mode to challenge player in time for completion, as well as a free roam mode to allow player to just simply drive around the world and explore. While there isn't anything innovating about this racing title the game itself is acceptable for racing fans but just don't expect NFS expectation with many customizations and multiplayer play.
77
Huge World, Fun Racing but Slow-Paced for a Racing Game
thegaminglyfe
|
June 17, 2013
|
See all thegaminglyfe's reviews »
Ocean City Racing has a huge map with lots of different vehicles to experiment with. Each with it's own unique attributes. The game is a bit slow-paced, there aren't many cars on the street and the city feels dead. I believe that to feel fast-paced, you should be shooting past cars. The races are fast but still don't add to the feeling of being fast-paced because you all seem to be going the same speed. If you are on a budget and want an open world racer for only $5, get this game. But if not, go with something else.
77
Not Bad!
Plasros
|
June 14, 2013
|
See all Plasros's reviews »
I wouldn't so much call it a "racing game" to tell you the truth. Racing is usually fast, hectic, adrenaline pumping. Instead of tearing a path to the finish line by battling other racers, you're taking it slow and steady at grandma's pace just to keep it on the road. With unrealistic collision physics (accidental wall driving in the tunnel) and inaccurate drifting (you spin all over the road, reverse does nothing, and hand brake is too powerful), you'll fight not to win a race, but to continue without wrecking. While the game does have pretty good (if not particularly realistic) graphics for an indie racer, it has an uninspired soundtrack. You would think that the developer would counteract the slow and steady nature of driving with an upbeat soundtrack. Sadly however, our ears are given the treat of listening to someone play a guitar and sing slow songs that sound like every other band from the mid-nineties. All in all, I'm impressed with the implementation for an indie GAME. However being in the racing category, it falls short in several key areas. I'll beat the racing mode because I'm a completionist, but free roam is pointless giving this game zero replayability. I wish I would have saved my $4.99 and bought a piece of DLC for NFS: Most Wanted instead.