POSTAL & POSTAL II Pack
Description
This pack includes:
POSTAL

POSTAL II Complete
---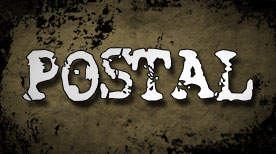 Play as The POSTAL Dude in his first appearance in a video game. Includes all the original missions PLUS the Special Delivery addon pack! This is retro gameplay at its finest. In the ilk of Robotron, play from a 3/4 Isometric view and take out your aggression on gun toting protagonists, innocent bystanders as well as torching a marching band! No aliens, no mutants, no stupid quest for the dragon's balls. Just good antisocial, psychotic shoot-'em-up action, strategy and government intervention.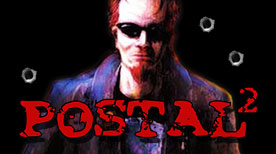 Live a week in the life of "The Postal Dude"; a hapless everyman just trying to check off some chores. Buying milk, returning an overdue library book, getting Gary Coleman's autograph, what could possibly go wrong?
Customer reviews
91
Crazy not for children game
Ansem1994
|
Sept. 12, 2013
|
See all Ansem1994's reviews »
A nostalgic game, a game I probaly shouldn't play as a child although I did. Bring back a lot of memory, just terrorizing around the city doing crazy stuff such as pee on people, shout throw cat's and all kind of crazy thing. This game is so stupid and that what make it so fun.
94
One franchise, Two completely different games.
drafek
|
Sept. 9, 2013
|
See all drafek's reviews »
Postal is a unique franchise, all three games in the franchise are made by three different companies. In POSTAL you play in RTS style, which is fun, but also annoying after some time. Postal does have 21 levels, which you can blast yourself though. But other than that there isn't really much to it, every level looks the same. In my opinion it's worth playing but not worth it's money. Than we got POSTAL 2, which is a fantastic game! It's a ''FPS'' well kinda, you just have to make everyone mad, I enjoyed using a cat as a silencer alot. It's one of the funniest game I've ever played. This pack is worth getting for POSTAL 2 alone, POSTAL is a nice bonus though.
48
Crazy Stupid
noobboy191
|
Sept. 9, 2013
|
See all noobboy191's reviews »
This is NOT a game for everyone. If you ever loved storylines, logical gameplay, or fun gun mechanics, TURN AWAY NOW. If you ever needed a way to vent out anger, bored, or generally want to waste time, the postal series is right up your alley. Be warned though, this game is M for a reason kids.