Q.U.B.E Pack
Description
This pack includes:
Q.U.B.E

Q.U.B.E Against the Qlock DLC
---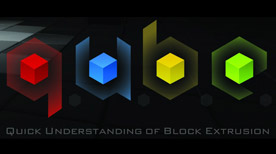 Set in a mysterious and abstract sterile environment, Q.U.B.E. (Quick Understanding of Block Extrusion) is a first-person puzzle game that challenges players to navigate each level by manipulating coloured cubes that surround them. There's little to go on as the game begins - the player is dropped into an all-white room with few instructions, and simply has to figure their way out. The tone of game changes as the player finds small and big alterations to their environment, supported by an original score, inviting each player to let their imagination take over as to where they might be. Through experimentation and discovery, players will progress through an ever-evolving series of cube puzzles that will challenge them with logic, physics, platforming.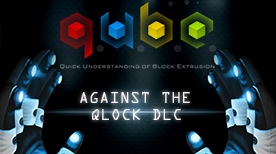 This all-new time trial package pits the player against the clock in a bid to get the highest score and beat their friends. Combining precision, logic and quick reactions the player must speed through each of the ten levels using a variety of pick-ups to their advantage. All new achievements and leader-boards extend the gameplay experience of Q.U.B.E. The DLC also offers an abundance of replay-ability as each level has a medal rating and a certain amount of medals are required to unlock new levels.
Customer reviews
85
A Hidden Gem!
Kief
|
Sept. 15, 2013
|
See all Kief's reviews »
First off, if you loved Portal for the mind bending puzzles, go out and buy this now! This game is packed with very well thought out puzzles that really put a test on your cognitive skills. If you're looking for a similar experience that was obtained from Portal, this game is not for you. You will be left disappointed to find out that this game has no storyline. The minute you play the game is the minute you begin your first puzzle. Really take into consideration that this an indie game, and for the price, you're getting quality stuff! The game is short, about 3 hours or so long depending on how fast you solve the puzzles, and that's why I couldn't give this game a masterpiece score or a 9 for what it's worth. I will really like to see some improvement, maybe a higher budget for a storyline, a set of characters, and a role with a goal for the mysteriously protagonist. This game has the potential to be the next Portal. Definitely pick up this game when it's on sale, you won't regret it!
95
Puzzles!
tv_
|
Sept. 12, 2013
|
See all tv_'s reviews »
You've come a long way from building blocks mindlessly. This very cheap puzzle game will definitely remind you of Portal, like everyone says, but really you are getting a very solid Puzzle game to make you think. Not much to it. It's cheap price matches the length and replay value of the game...I don't know about you, but it's a great deal for a puzzle. I don't think I'd ever go back to doing a Puzzle--rather I'll bask in the glory of completing it the first time. This game is pointless for those who search for guides. It's not difficult, just think!
74
Portal clone? Maybe or maybe not, you decide
y1985
|
Sept. 11, 2013
|
See all y1985's reviews »
At the first glance of the game. I'm sure most of the people who play Portal will definitely said "It's a Portal Clone!!!" but If you have played the game you will feel different. There aren't many FPS Puzzle game but that's not mean they're bad mix. Try this game you'll change your mind. Bad thing about this game is the game is too short and didn't have much replay value.
73
Decently entertaining puzzle game... for a while
Alcatraz_Inmate
|
Sept. 10, 2013
|
See all Alcatraz_Inmate's reviews »
Ok so let me start off the review by saying the time I spent with this game very much gave a "portal" feel of gameplay, which is good. However in my opinion, it is only entertaining for a short while. The puzzles are decently challenging and require a good amount of thought later on, but nothing that will make you pull your hair out of frustration. It's well paced and has some interesting "qube" mechanics. One thing to note is that there is virtually no story here and if there is, it is very minuscule and lacks engagement, but if you don't mind that, this is a title definitely worth looking into at some point if you're into puzzle games.The time trials give a bit of replayability, but for the most part a run through or two will be good enough.
73
Great puzzle game
lok0812
|
Sept. 9, 2013
|
See all lok0812's reviews »
Even though this game is nothing like the Portal series in terms of puzzle it is still a very solid game. As the player you have power to manipulate cubes that are in different colors to help you get past the stage that require you to solve puzzle. One interesting aspect of this is you are required to mix between 2 colors to get a new color later on in the stage as well as some pretty challenging puzzles near the end of the game. This package also includes the DLC of the game by adding a time leaderboard of each stage of the game allowing friends to challenge each other to see who can complete the stage quicker as well as additional achievements. Definitely a solid pickup for fans that wants to step away from blasting portals.