Rochard Pack
Description
This pack includes:
Rochard

Rochard: Hard Times DLC
---
Grab a G-Lifter - your new best friend! Use it to change gravity at will, manipulate the environment, and throw huge crates at your enemies. Join the amazing exploits of astro-miner John Rochard and embark on a gravity-bending journey across the Solar System! Rochard is an award-winning side-scroller featuring hours of mind-blowing gravity gameplay, puzzle-solving and action. Narrated in a humorous cartoony style, Rochard tells a thrilling story of villains, a damsel in distress and a mysterious alien civilization.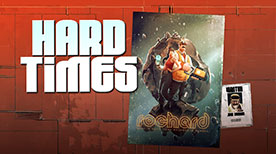 The Hard Times content is designed to use all of the existing game mechanics, with an emphasis on puzzle-solving as opposed to combat, and offers a difficult test for even the most experienced players.
Customer reviews
83
Meh, could be a little better.
drafek
|
Sept. 9, 2013
|
See all drafek's reviews »
This pack includes rochard and it's DLC. This is a nice platformer, with good graphics, but in my opinion not worth full price. It does include 30+ levels though, not counting the DLC. Worth getting for hardcore gamers otherwise wait for a sale.
84
the best way to spend 3 USD
jrojas28
|
Sept. 8, 2013
|
See all jrojas28's reviews »
At the moment, this gamr is 3 USD and it's worth every single penny. Rochard is a game based on retro style action platformers like Metroid or Castlevania, but this time, it is not focused on combat, but on puzzles. The game takes up the best of the previously mentioned classics and joins it with puzzle aspects to create a fantastic experience that could last about 6 hours or more when unlocking everything. When it comes to graphics, they are very similar to those of Shadow Complex, with some light shadowy atmosphere to it. Mechanics tend to revolve around pulling and throwing objects or shooting some guys (altough combat is not the emphasis). The best part of the game, at least in my opinion, are the characters. They tend to be funny andd you learn to care for their relation. The story may be sort of cliche, but characters and gameplay make up for it. Also, the addition to the DLC in this pack, wich provides more puzzles, is really great and enjoyable. I had this gamr on PSN, but at 3 USD, i HAD to get it again. Highly recommend it to wveryone.
90
An Outstanding Puzzle Platformer!
eagleofnone
|
Sept. 8, 2013
|
See all eagleofnone's reviews »
This game is highly recommended for gamers who are fans of puzzle and platforming genres; in fact I also highly recommend it for people who loved the Gravity Gun in Half Life 2. The gameplay revolves around the use of the G-Lifter, a weapon that can be used to pick up and throw items at first, but which gains 2 more abilities metroidvania style. You play as Rochard, a miner who's trapped on an asteroid with space pirates, and your goal is to defeat the pirates and figure out what happened to your friends. The story is predictable, but the voice acting sells the story with some snappy humour. The game's physics mechanics are solid, and you get a good workout from the Hard Times add-on. The only gripe I have is that movement is sometimes a little bit floaty, but then again it lends to the challenge of the platforming. You owe it to yourself to get this game!
80
Great puzzle platformer
lok0812
|
Sept. 8, 2013
|
See all lok0812's reviews »
Rochard is a very fun and innovative puzzle platformer game that is very similar to Braid in terms of puzzle element and not as crazy hard as Super Meat Boy. The player will have access to the gravity gun and will have the ability to use it to change the gravity to get pass the stage and defeat your enemies. Some of the puzzles are suprsingly challenge and will require a little time thinking. In addition, this package contains the DLC of the game which adds even more hard puzzles to the existing levels making them very hard to tackle. Great package to pick up for any puzzle platformer fans.