Nosgoth Immortal Pack
Description
---
Contains: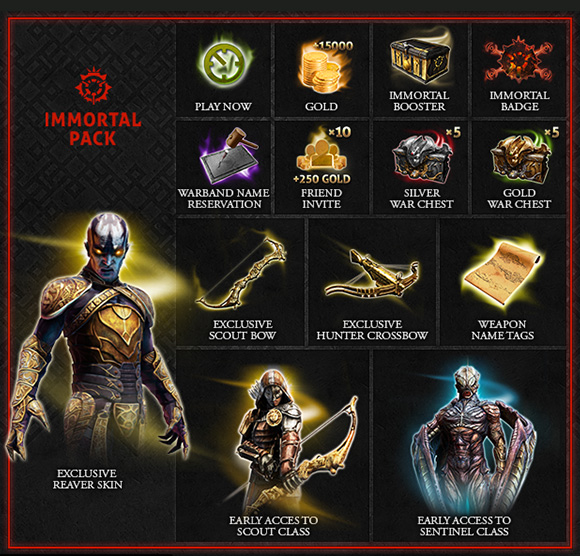 15,000 Gold
Immortal Badge
10 invites (w/250 Gold)
Warband Name Reservation
5 Silver War Chest
5 Goldemn War Chest
Immortal Founder's 30 Day Booster

(+100% XP & Gold, +50% Shared)

Founder's Reaver Skin
Founder's Scout Bow
Founder's Hunter Crossbow
Early Access to Sentinel Class
Early Access to Scout Class
6 Weapon Name Tags
---

Hundreds of years of conflict and hatred, each race pitted against the other. This is the war for Nosgoth, a war for supremacy and for survival.
Join the war between Vampires and Humans using each race's unique fighting style to conquer and crush the opposition.
HUMANS
Arm yourself for the hunt with an arsenal of devastating ranged weaponry and specialised equipment
VAMPIRES
Unleash your inhuman force with savage close-combat melee attacks and supernatural abilities
---

Fight as Humans and Vampires in brutal team-based multiplayer battles

Experience intense, fast-paced and savage melee vs. ranged gameplay

Deep character customisation across multiple classes, each with their own unique set of abilities and weaponry

Discover a previously unexplored era in the dark fantasy world of Legacy of Kain

Play for free in a live game with continuous and frequent updates
---
Nosgoth is currently supported by servers in Europe and North America. Anyone outside of these regions unfortunately may experience a less than optimal performance