Battlefield 4 (NA)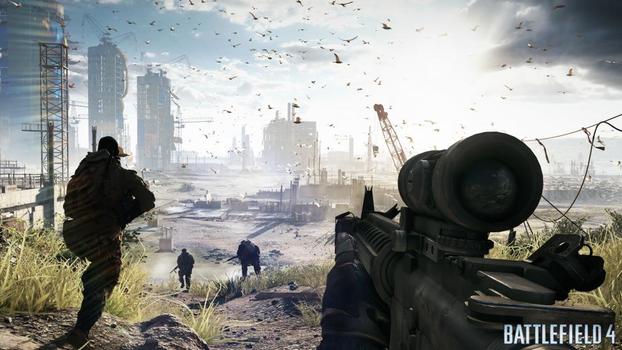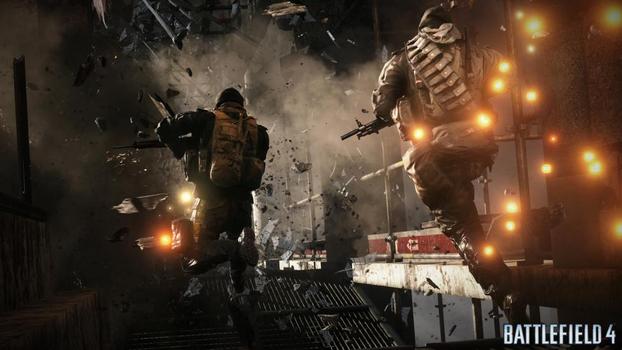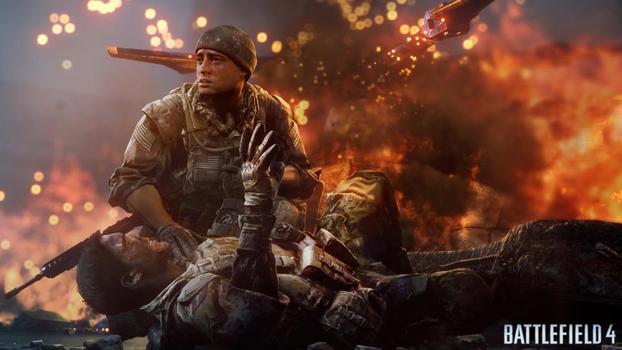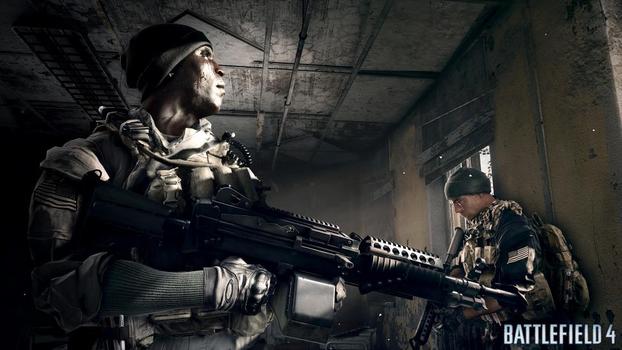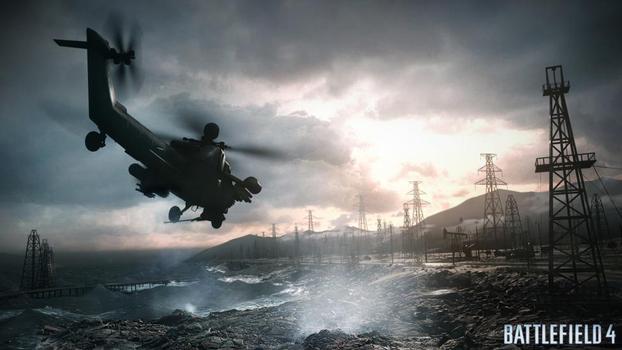 Third party DRM:

Origin
Please note that the free third-party service, Origin, must be used to activate this title.
Description
Golden Joystick Awards:

---
"Battlefield 4 wants you--yes, you--to experience even more thrilling, more epic moments than ever before with a beefed up single-player story and the addition of map-changing levolution events and show-stopping destruction online." - Gamesradar.com
"DICE is the Mozart of war, and its mastery over sound continues to define Battlefield's moment-to-moment richness." - PCGamer.com
---


---
Only in Battlefield™
---
Battlefield 4™ is the genre-defining action blockbuster made from moments that blur the line between game and glory.
Fueled by the next-generation power and fidelity of Frostbite™ 3, Battlefield 4 provides a visceral, dramatic experience unlike any other.
Only in Battlefield can you demolish the buildings shielding your enemy. Only in Battlefield will you lead an assault from the back of a gun boat. Battlefield grants you the freedom to do more and be more while playing to your strengths and carving your own path to victory.
In addition to its hallmark multiplayer, Battlefield 4 features an intense, dramatic character-driven campaign that starts with the evacuation of American VIPs from Shanghai and follows your squad's struggle to find its way home.
There is no comparison. Immerse yourself in the glorious chaos of all-out war, found only in Battlefield.
---
Features:
Only in Battlefield can you experience Levolution, changing the landscape in real-time with interactive environments that react to your every move.

Only in Battlefield will you find the awe-inspiring power of the next generation Frostbite™ 3 engine, whose unrivaled audio and visual fidelity make your game more dramatic, more believable, and more human.

Only in Battlefield can you experience an unmatched level of all-out war that grants you the freedom to play to your strengths and carve your own path to victory.

Only in Battlefield do you have the power to dominate land, air and sea with all-new, intense water-based vehicle combat
Customer reviews
48
no thanks
Lilpwnzer
|
Aug. 17, 2014
|
See all Lilpwnzer's reviews »
As always, the campaign was terrible, but i didn't care much about that. but somehow, dice: one of the best Video Game companies in the world when it comes to multiplayer, screwed it up. when it came it there were glitches EVERYWHERE. even after they updated it, it never really held. stick to battlefield 3
74
Clouded by bugs
yngdr
|
Aug. 14, 2014
|
See all yngdr's reviews »
The game tries too hard to improve on the last battlefield game. The graphics look the same but the cut scenes interrupt the game-play. It seems that the weapons are great and spot on in how they work but have characters popping out of unknown holes. frustrating at times with a bug and the save restarting to beginning of checkpoints. Multiplayer is same as usual with these modern war games.
85
A Fantastic Multiplayer Experience.
Darkrai64
|
May 28, 2014
|
See all Darkrai64's reviews »
The multiplayer is where the game shines. The singleplayer is actually decent. It was fun to play through, but it was mostly linear and there is not much of a reason to go through it a second time. The multiplayer, however, is what keeps players playing for days, weeks, months, and maybe even years! The multiplayer has a lot of action happening. With ground, sea, and aerial combat, the enemy can attack from any direction. The maps are mostly well done and feature multiple routes to flank your enemy. There are many unlockables, including weapons, medals, attachments, and more. The graphics are excellent, quite possibly one of the best looking FPS games on the market. The game had a very rough launch, but after many patches, it is much better. If you are looking for a fun multiplayer experience, check out Battlefield 4.
65
Close
bangincrazy
|
May 2, 2014
|
See all bangincrazy's reviews »
Battlefield 4 is definately better than Battlefield 3 in terms of vehicles and maps. However it still has the fundamental issues that Battlefield 3 had. The netcode is awful. You still die behind cover. The game is glitchy and lags. Dice has had over 6 months to fix the game but has failed to do so. When released this game was unplayable. It is a bit better but not by much. Save your money.
85
Great multiplayer, buggy single.
Nubsmcgee
|
April 8, 2014
|
See all Nubsmcgee's reviews »
Battlefield four is a great game, now after a few months after release so that is what this review will be based on. The bullet drop is a lot fairer and they made it so pistols can actually have a place on the battleground, a bullet is a bullet on this game unlike Call of Duty. You get hit, you are going to hurt for a while.
The vehicles in this game are much more improved, the airplanes are fun and the tanks drive like tanks. The only thing I have a problem with is that the jeep's glass is more resilient than tank armor (can't shoot out the drivers of helicopters either like Bad Company 2) And a certain chopper is quite overpowered and can out tank multiple rockets with a few engineers. However, it is still Battlefield, harsh to new players and rewarding for those that worked up to learning the game and its playstyle.
Oh, and the campaign is meh; but who plays battlefield for that?
85/100