Battlefield 4 (NA)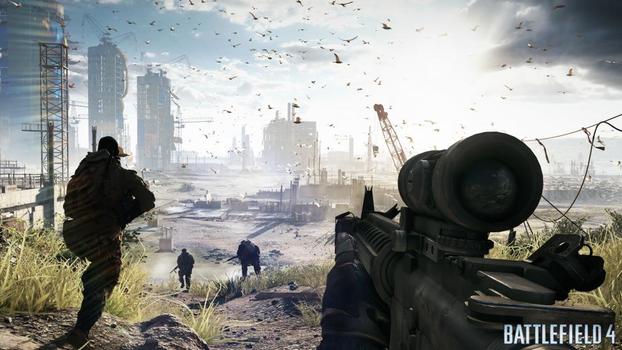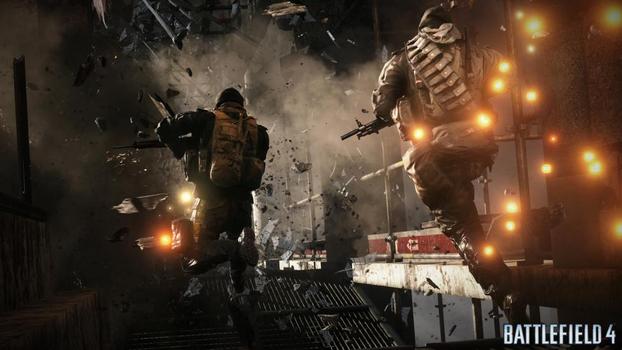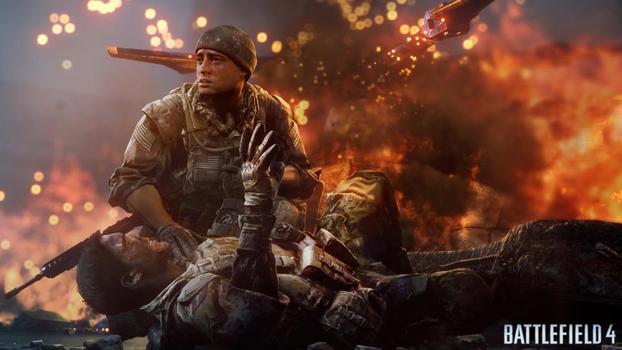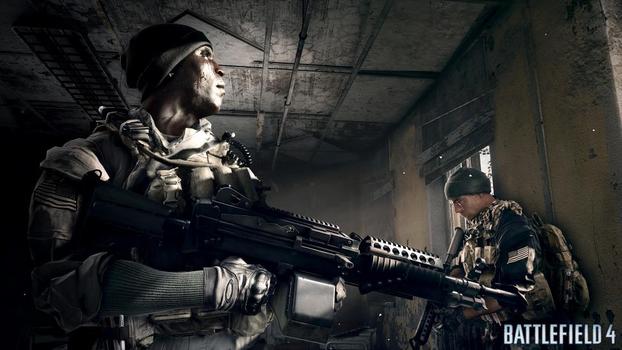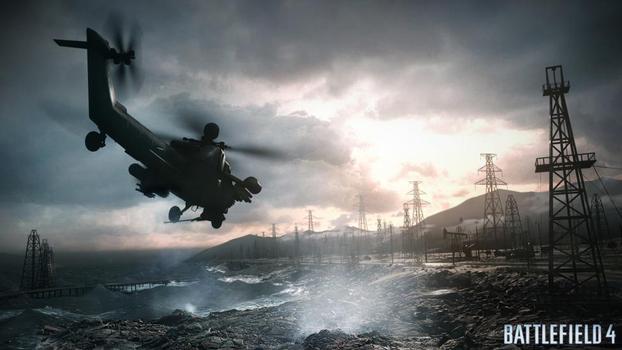 Third party DRM:

Origin
Please note that the free third-party service, Origin, must be used to activate this title.
Description
Golden Joystick Awards:

---
"Battlefield 4 wants you--yes, you--to experience even more thrilling, more epic moments than ever before with a beefed up single-player story and the addition of map-changing levolution events and show-stopping destruction online." - Gamesradar.com
"DICE is the Mozart of war, and its mastery over sound continues to define Battlefield's moment-to-moment richness." - PCGamer.com
---


---
Only in Battlefield™
---
Battlefield 4™ is the genre-defining action blockbuster made from moments that blur the line between game and glory.
Fueled by the next-generation power and fidelity of Frostbite™ 3, Battlefield 4 provides a visceral, dramatic experience unlike any other.
Only in Battlefield can you demolish the buildings shielding your enemy. Only in Battlefield will you lead an assault from the back of a gun boat. Battlefield grants you the freedom to do more and be more while playing to your strengths and carving your own path to victory.
In addition to its hallmark multiplayer, Battlefield 4 features an intense, dramatic character-driven campaign that starts with the evacuation of American VIPs from Shanghai and follows your squad's struggle to find its way home.
There is no comparison. Immerse yourself in the glorious chaos of all-out war, found only in Battlefield.
---
Features:
Only in Battlefield can you experience Levolution, changing the landscape in real-time with interactive environments that react to your every move.

Only in Battlefield will you find the awe-inspiring power of the next generation Frostbite™ 3 engine, whose unrivaled audio and visual fidelity make your game more dramatic, more believable, and more human.

Only in Battlefield can you experience an unmatched level of all-out war that grants you the freedom to play to your strengths and carve your own path to victory.

Only in Battlefield do you have the power to dominate land, air and sea with all-new, intense water-based vehicle combat
Customer reviews
48
Good but BF3 Still my Favorite
Gazilla25
|
April 15, 2015
|
See all Gazilla25's reviews »
I got this game the day it came out and Honestly it was fun for maybe 3 days. its confusing, annoying, and is becoming a typical shooter. I want a unique game and unfortunately bf4 is becoming a more common game like all the other. It feels the same as anything else.
90
Perfect followup to BF3
greenmandan2013
|
Feb. 24, 2015
|
See all greenmandan2013's reviews »
Improved graphics and game play, this edition of battlefield is a refreshing improvement from the already great BF3. Game play feels much smoother and the vehicles actually take time to reload so you cant be bombarded by tank rounds or helicopter missiles. The ability to join with friends has also improved with the auto balance when you join on your friends. Overall its a great game and well worth the expansions. The game still has a few bugs like dying after you are in cover as if the bullets didn't register correctly.
89
Awesome FPS
rampagge
|
Nov. 13, 2014
|
See all rampagge's reviews »
It's a really great multiplayer, I dont find any bug in this game. Super fun but if want to play all the maps, you have to buy the expansions :( Campaign is also great, details really given in there.
85
A solid upgrade with a rough start.
heerox328
|
Nov. 8, 2014
|
See all heerox328's reviews »
Battlefield is a franchise like no other. Enjoy a first person shooter? Enjoy massive warfare with unrivaled graphic fidelity and incredible destruction? Look no further.
Running on Frostbite 3, DICE brings us its latest and most ambitious Battlefield experience yet. With the additions of levolution and the return of commander mode, DICE ups the standards once again from the award-winning Battlefield 3.
While admittedly Battlefield 4 had a slow start due to lack of polish and netcode issues, DICE has worked hard to revamp the game and give it the overhaul and attention it needed. This isn't a significant upgrade from Battlefield 3, but it does have better visuals, more customization, levolution, and a single player experience that is somewhat better.
Solid game. Definitely worth picking up if it's on sale. If you already own Battlefield 3, I might wait until Hardline or Star Wars Battlefront before picking up another Battlefield title.
48
no thanks
Lilpwnzer
|
Aug. 17, 2014
|
See all Lilpwnzer's reviews »
As always, the campaign was terrible, but i didn't care much about that. but somehow, dice: one of the best Video Game companies in the world when it comes to multiplayer, screwed it up. when it came it there were glitches EVERYWHERE. even after they updated it, it never really held. stick to battlefield 3