Titanfall (NA)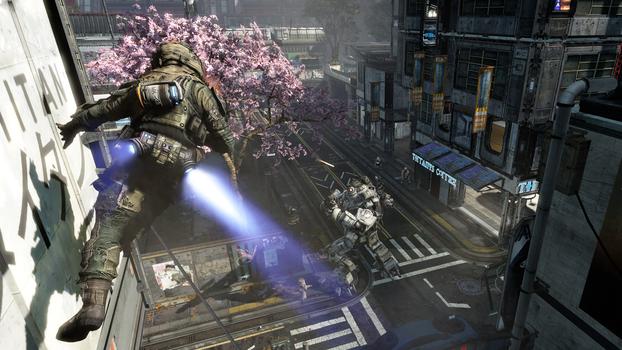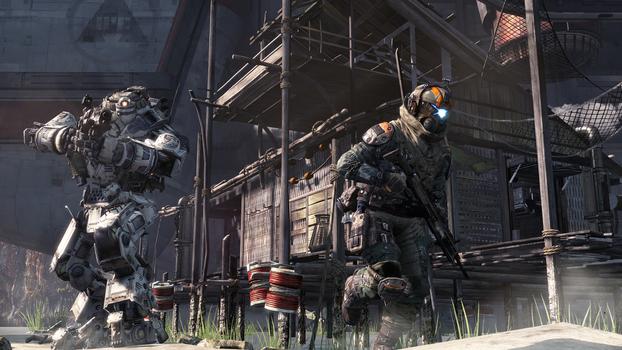 Third party DRM: Origin

Please note that the free third-party service, Origin, must be used to activate this title.
Description
Also Available:


---
E3 2013 Awards
RECORD SETTING 6 GAME CRITIC AWARD WINS!
BEST OF SHOW
BEST ORIGINAL GAME
BEST CONSOLE GAME
BEST PC GAME
BEST ACTION GAME
BEST ONLINE MULTIPLAYER
---
Prepare for Titanfall. Crafted by one of the co-creators of Call of Duty and other key developers behind the Call of Duty franchise, Titanfall is an all-new universe juxtaposing small vs. giant, natural vs. industrial and man vs. machine. The visionaries at Respawn have drawn inspiration from their proven experiences in first-person action and with Titanfall are focused on bringing something exciting the next generation of multiplayer gaming.
---
KEY FEATURES
Fast-Paced Future Warfare – In Titanfall the advanced warfare of tomorrow gives you the freedom to fight your way as both elite assault Pilot and agile, heavily armored 24' tall Titans. Titanfall rethinks fundamental combat and movement giving players the ability to change tactics on the fly, attacking or escaping depending on the situation.

The Future of Online Multiplayer Action – The game is entirely multiplayer, in a new experience that combines fast-paced online action with the heroic set piece moments traditionally found in campaign mode. The intersection of the two is a big part of what gives Titanfall its iconic identity.

The Visionaries that Defined Gaming for a Generation are back! — Founded in 2010, Respawn Entertainment was formed by Vince Zampella and Jason West, former co-founders of Infinity Ward and two of the co-creators of the multi-billion dollar franchise Call of Duty™ They are building on their pedigree and taking a new approach to game design and creating an all new universe with Titanfall
Customer reviews
84
Great Game, But....
mrminecrafter1
|
July 16, 2014
|
See all mrminecrafter1's reviews »
It's a really well executed FPS game. The addition of jetpacks, parkour, and mechs really add some unique aspects to the gameplay. It's absolutely thrilling being given the ability to chain together infantry kills. The weapons are really well balanced and are great to use. The Titans aren't too powerful but they are certainly useful in combat. Graphics are pretty good and the game barely has any technical issues. The problem is the depth of the game. It lacks customization options for anything in the game. Titans have limited customisable options. Weapons are also included. Even your character is limited to pre-set options. A small number of maps that while are good, needs a bit more added to it's collection. More unique gamemodes would also help the game. All in all, a pretty good FPS title.
85
Almost There
Volace
|
June 12, 2014
|
See all Volace's reviews »
Personally, I feel that, although the game is great, it didn't quite live up to the hype. Sure, it's loads of fun stomping around in big robots, or running along walls parkouring all over the place, but after a while, it gets kind of repetitive. There are some weapons in the game, that, as pilots, there's no escape from cough Smart Pistol *cough and some of the Titans just don't seem to match up to the others. Other than these problems, it's a pretty fun game to play in short sessions, and I would recommend buying it.
65
New, but gets boring
HirPeng
|
June 8, 2014
|
See all HirPeng's reviews »
The game started out as a fast passed game that delivered lots of fun but then
after a few days it turned repetitive. Why, you must ask well the game had few guns and levels played out the same. Overall the game was fun for the first 4 days worth the 60 dollars I do not think.
The graphics did look amazing, but if game play is not good graphics really do not matter
60
Titanfall: Call of Duty in Disguise
JaviDoubleOh7
|
May 6, 2014
|
See all JaviDoubleOh7's reviews »
This game is overhyped by the big moneymaking companies as usual. I bought it, played it, and as predicted, it is Call of Duty with big robots, nothing innovative as many reviewing sites make it out to be. I know why they claim it is the almighty game, that is because they are getting a big paycheck from their masters. I can tell you right now, that this game might as well be called "Titanfall: Call of Duty in Disguise. Been there, done that, nothing new. A few minutes into Titanfall and the realization that you just wasted money will hit you like a ton of bricks. My personal rating system goes from a "low meh" aka CRAP, to "meh" aka OKAY, to "awesome" aka AWESOME. I give it a Low Meh out of an Awesome.
Low Meh/Awesome
100
I love it
JABxxx
|
May 3, 2014
|
See all JABxxx's reviews »
I havent enjoyed a first person shooter this much since Call of duty 4. Its important to point out though the game is online only so if your online connection isnt very good I wouldnt recommend getting it because you will be at an extreme disadvantage. Double jumping with your jetpack, parkour and the mechs make this game stand out from call of duty. Although if you've played call of duty recently you'll feel right at home here which will decrease the learning curve a bit but also gives you a bunch of new utilities and abilities to use to diversify the play style from Call of duty.