Titanfall (NA)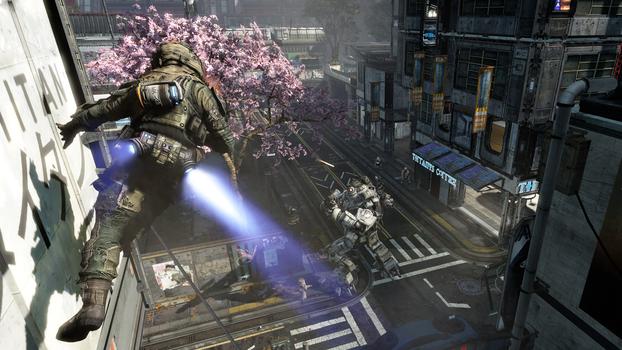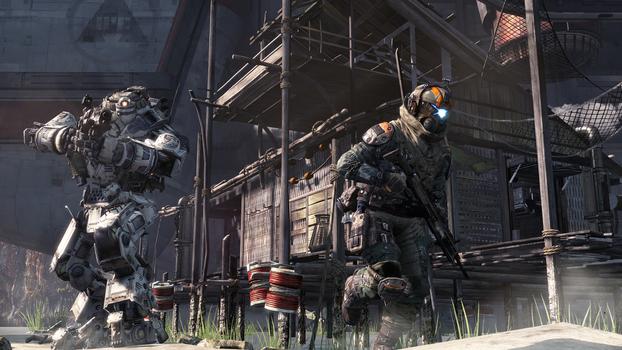 Third party DRM:

Origin
Please note that the free third-party service, Origin, must be used to activate this title.
Description
Also Available:


---
E3 2013 Awards
RECORD SETTING 6 GAME CRITIC AWARD WINS!
BEST OF SHOW
BEST ORIGINAL GAME
BEST CONSOLE GAME
BEST PC GAME
BEST ACTION GAME
BEST ONLINE MULTIPLAYER
---
Prepare for Titanfall. Crafted by one of the co-creators of Call of Duty and other key developers behind the Call of Duty franchise, Titanfall is an all-new universe juxtaposing small vs. giant, natural vs. industrial and man vs. machine. The visionaries at Respawn have drawn inspiration from their proven experiences in first-person action and with Titanfall are focused on bringing something exciting the next generation of multiplayer gaming.
---
KEY FEATURES
Fast-Paced Future Warfare – In Titanfall the advanced warfare of tomorrow gives you the freedom to fight your way as both elite assault Pilot and agile, heavily armored 24' tall Titans. Titanfall rethinks fundamental combat and movement giving players the ability to change tactics on the fly, attacking or escaping depending on the situation.

The Future of Online Multiplayer Action – The game is entirely multiplayer, in a new experience that combines fast-paced online action with the heroic set piece moments traditionally found in campaign mode. The intersection of the two is a big part of what gives Titanfall its iconic identity.

The Visionaries that Defined Gaming for a Generation are back! — Founded in 2010, Respawn Entertainment was formed by Vince Zampella and Jason West, former co-founders of Infinity Ward and two of the co-creators of the multi-billion dollar franchise Call of Duty™ They are building on their pedigree and taking a new approach to game design and creating an all new universe with Titanfall
Customer reviews
75
Great Game, but Hard to Completely Recommend
tedesco75
|
Sept. 15, 2014
|
See all tedesco75's reviews »
This game is a lot of fun, it is well optimized and runs great on my system. Almost better than anything else I can think of. Since its release the community has diminished though and it often takes a few minutes to find a game.
Really, Titanfall was one of my favorite games recently and I really don't like multiplayer games. The use of titans is very interesting and adds a neat dynamic to the playing field. It does suffer from no single player mode as I could tell you pretty much nothing about the plot or setting other than some military guys are fighting some other military guys and they have robots.
That being said, it is great and action packed. I wish I could give it a better recommendation but the diminishing number of players makes it hard to give it better marks.
72
Fun but lacking in updates.
7bryce2
|
Sept. 15, 2014
|
See all 7bryce2's reviews »
Just like the title says.
Pros: .Fun fast paced game. .GIANT ROBOTS .nice graphics and good maps Cons: .Lacking in updates .expansion packs dont add anything nice other than a couple maps. .lack of weapons and customization .don't really listen to community ------------------------------------------------WORTH GETTING
0
SOO BAD!!!
Sedarspal
|
Sept. 2, 2014
|
See all Sedarspal's reviews »
Same stuff every game. Get your titan and survive = win super boring and a big waste of money. I wish I could get my money back
85
Great game
Ghost_Panther
|
Aug. 23, 2014
|
See all Ghost_Panther's reviews »
Really fun game that's new and refreshing. Almost revolutionary. Only flaw with Titanfall is the campaign isn't very good. It's basically 18 multiplayer matches with background stuff you barely notice. Overall it's super fun and entertaining.
84
Great Game, But....
mrminecrafter1
|
July 16, 2014
|
See all mrminecrafter1's reviews »
It's a really well executed FPS game. The addition of jetpacks, parkour, and mechs really add some unique aspects to the gameplay. It's absolutely thrilling being given the ability to chain together infantry kills. The weapons are really well balanced and are great to use. The Titans aren't too powerful but they are certainly useful in combat. Graphics are pretty good and the game barely has any technical issues. The problem is the depth of the game. It lacks customization options for anything in the game. Titans have limited customisable options. Weapons are also included. Even your character is limited to pre-set options. A small number of maps that while are good, needs a bit more added to it's collection. More unique gamemodes would also help the game. All in all, a pretty good FPS title.