The monoliths of Ubisoft, Sony and Microsoft presented yesterday, with some totally unexpected announcements. What wthey? Luckily for you, we've collected the biggest announcements for your easy viewing! Keep in mind, there may be some foul language in some of these videos.
To start, Microsoft lead the charge with their announcement of the Xbox One S, a smaller form factor Xbox One!
Next up, we got our first look at Forze Horizon 3, which will be coming to PC and Xbox One!
In a surprise move from CD Projekt Red, we'll be getting to play a standalone version of Gwent on PC and consoles!
We got our first real look at Halo Wars 2 gameplay!
And finally, Microsoft showed off their Project Scorpio, promising a new Xbox One that can push 4k resolutions!
Those were the biggest things from Microsoft's conference, but with three more to go, we were just getting started!
We knew most of the larger titles from Ubisoft going into their conference, but that doesn't mean that there weren't any surprises!
First off, we got shown the hilarious looking Trials of the Blood Dragon, which fuses Far Cry 3: Blood Dragon with the much loved Trials franchise!

We got a long look at Watch_Dogs 2 for the first time!
In a surprise follow up to the adorable Grow Home, we got to see Grow Up, which improves and expands on what we saw from the first game!
Next up, one of the most unexpected games we saw announced from the conference, was Steep! A game where you perform winter extreme sports, from skiing to hang gliding to snowboarding.
We also got our first real look at gameplay from the wild looking Ghost Recon: Wildlands
Wrapping up the evening of conferences was Sony, with their show-stopping display of orchestrated videos and incredible announcements.
First out of the gate was God of War 4, showing Kratos in a Norse environment!
The next huge announcement was Resident Evil 7, which is going to have a full VR mode. The trailer looked oddly Silent Hills, which was a welcome surprise!
A cool new zombie game, featuring bounty hunters and bikers called Days Gone was shown, with players fighting off hordes of World War Z-style zombies.
Those of you that have been following the videos and blogs we've been putting out should know by now how much I love Spider-Man. Brilliantly, we got an announcement of a Spider-Man game developed by Insomniac studios, aptly titled Spider-Man
Sony announced that they're remaking Crash Bandicoot for PS4, including Crash 1, 2 and Warped! Sadly, there was no trailer for this, so here's a Crash gif instead!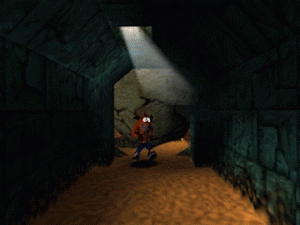 Of course, the biggest announcement of the night was from Hideo Kojima, who appeared at the end of the night to showcase his new game, Death Stranding, staring Norman Reedus.
Those were the big announcements from E3 this year, but stay tuned! We're going to have a video up shortly talking about what we thought were the best announcements from the show!
PF Drew