For those of you wishing to get your fill of competitive video games this weekend, we're swapping the slow-paced strategic depth of League of Legends and Dota 2 for the fast-paced world of flying turbo laced cars. Take soaring vehicles and merge them with football and you have Psyonix's wonderful title Rocket League. It's easy on the eye, simple to pick up yet incredible difficult to master. Watching the professionals will certainly be an eye-opener for many. Most of the game is played in the air as the incredibly talented three-man rosters battle it out for supremacy in five minute bursts. It's time for the conclusion of the Rocket League Championship Series Season 4 and the excitement is palpable.
For those of you thirsty for your fill of the "traditional big three" esports, there's the iBUYPOWER Masters taking place in Santa Ana as eight teams fight it out for their share of $100,000.
The RLCS should provide a mouth-watering finish to a fabulous season
There shall be no defending champions Team EnVyUs out in Santa Ana this weekend as Season 4 culminates. Much like other esports titles, the RLCS is split by region, with the fourth iteration being welcome teams from Europe, North America and the Oceanic region.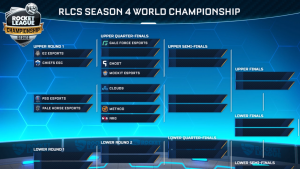 There will be no chance for Team EnVyUs to retain their title from last season as the European squad fell awfully short following a poor performance in the European season. Dutch star Remco "remkoe" den Boer was powerless as the powerhouse of prior could manage just two wins in their seven matches and finished in the bottom two. Instead, they'll face the prospect of relegation to the RLRS.
The two teams to secure automatic qualification instead were Method and a name familiar to many in the traditional sporting world: PSG eSports. Method head to the finals with a reputation for free-scoring and having one of the most dynamic duos in world Rocket League. Finnish duo Otto "Metsanauris" Kaipiainen and Joonas "Mognus" Salo show there really is Method in the Mognus as their combination play is often slick and unanswered. For every pair of flashy superstars, there needs to be an anchor every bit as sturdy. Swede Linus "al0t" Mollegren provides just that, adding an integral ingredient to the Method recipe which saw them only lose at the hands of PSG last season. They will carry the hopes of many European fans, with PSG likely to be the other main contenders. If they can continue their irresistible form from the regular season, it would take a brave man to bet against them.
The American challenge will be led by two juggernauts in esports terms. G2 Esports and Cloud9 are names synonymous with success across a multitude of esports titles and evidently Rocket League is no different. The Cloud9 roster is made up of the team previously named "The Muffin Men" who surprised the world with victory out at DreamHack. They've shown they can mix it with the world's best, and after hammering PSG in the Northern Arena Rocket League Invitational a few weeks back look a hot tip to take the title here. As is the case with Method, however, they did manage to lose one game and that was to regional rivals G2. G2's only blip was an unexpected loss to a FlyQuest team who managed just two wins all season but just managed to stay afloat of the North American relegation playoff spots.
The Oceanic region is tough to gauge, with many teams not having been seen in a global context very often. There may well be some surprise packages, though. Pale Horse eSports and Chiefs ESC will return to Worlds with lofty hopes; whether it will be enoughthough remains to be seen.
$100,000 on the line in Santa Ana for iBUYPOWER Cup
Normally when talking about Counter-Strike we have to bring out the almost cliché rhetoric of how FaZe and SK Gaming look tough to beat but G2 and Astralis are more than capable should they capture the form we know they can produce. With the iBUYPOWER cup welcoming a mixture of top tier and tier two teams, we're in for an absolute treat. The pre-tournament favourites in many eyes will come from one of Cloud9, Team Liquid or OpTic Gaming. Cloud9 features two former OpTic players and the #GreenWall Counter-Strike identity has moved from North America to a mix-European lineup. The talent on OpTic is undoubted, with Magisk, allu and friberg all big names in the CS:GO scene who have unfortunately not quite managed to perform on the big stage of late. Alas, they'll all be looking to rebuild themselves on this OpTic team and their recent results suggest they'll be dangerous out in Santa Ana.
Cloud9 are still trying to find their feet after both RUSH and tarik joined in place of n0thing and Shroud but again, on their day, they are a force to be reckoned with. Team Liquid are the most sturdy of the three, sticking with a similar roster for a considerable length of time. Time and time again they've come inches from big tournament results only to struggle at the final hurdle. Without the heavyweights of the scene there this weekend though, they may well just romp home. Teams like Renegades, Misfits, NRG, CLG and Luminosity aren't there just to make up the numbers either. They can put in a big performance. For CLG and Misfits, a tough group featuring both Liquid and OpTic gives them a tough draw but a chance to make a statement. Keep an eye out for OpTic here, a win at this tournament would be a big eye-opener for the rest of the world that they mean serious business as we head towards bigger and better tournaments.
It's almost a refreshing break from the intensity of MOBAs as the esports world braces itself for another cracking weekend.