Whilst it only seems like yesterday that the inaugural season of the Overwatch League got underway – but this weekend will mark the conclusion of the first stage of the competition. It's all to play for as teams bid for a top three spot and a run in the playoffs.
Here's what has happened so far
We've already had the first round of games go down in the Overwatch League, but it's still all to play for. A few weeks ago the league looked all but done and dusted – with New York Excelsior, London Spitfire and Seoul Dynasty looking nigh on unstoppable.
The common theme in the aforementioned rosters is that all of them are the full-Korean rosters. South Korea has time and time again shown just how strong it is at Overwatch, but it seems the Western teams are gradually starting to figure them out and adjust their playstyles accordingly.
Interestingly, the standings now read as follows: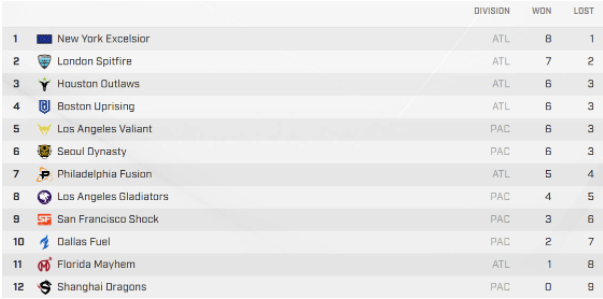 Seoul Dynasty once sat unbeaten but recent results have not gone their way and they now have very little control over their playoff fate. Instead, it's New York Excelsior and London Spitfire who sit atop the roost. However – they face each other in the last regulation game of the league, and in what's sure to be a cracking affair.
London Spitfire fell to Houston Outlaws when they played them earlier this week in a game that would have seen them sew up their playoff spot. Dominance from the Outlaws on Eichenwalde and Oasis in addition to a narrow win on Anubis ensured a 3-1 victory for the #GreenWall and OpTic Gaming owned franchise.
Dynasty were humbled 3-0 at the hands of the Los Angeles Valiant and can't seem to buy a win at the moment. They're rotating off their main support duo that served them so well throughout, and simply put – when they're missing – they're just not as strong a unit.
New York Excelsior were the only of the three star-studded Korean rosters to win and they did so in style, swatting Florida Mayhem aside in convincing fashion to win by three games to nil.
It all comes down to this
Each team has one match left. Then the top three will make it through to the play-off stage of the first stage of the inaugural Overwatch League. Many naysayers were writing the league off for lack of excitement early on – but now it's all to play for.
There's still several permutations as to what can happen – but ultimately, the two matches we're most intrigued by are Houston Outlaws versus Boston Uprising and the big one: New York Excelsior versus London Spitfire.
Both the Uprising and the Outlaws sit at 6-3 but above the likes of the Valiant and Dynasty, so they're ultimately in control of their playoff hopes and dreams. Whomever wins this is likely to secure the third spot and thus a place in the semi-final of the first stage. Outlaws have been simply irresistible when they're on top form. Jacob "JAKE" Lyon or "Jakerat" as some like to call him is super exciting to watch on Junkrat and with Finnish DPS Jiri "LiNkzr" Masalin also fantastic on Tracer they're a formidable team to watch. Shane "Rawkus" Flaherty is a mean Widowmaker but the fact he now plays support says it all. His Zenyatta can be as deadly as the best Widowmaker players out there – and that's saying something.
Can London soar highest?
Ultimately, to decide who takes top seed the London Spitfire will face off against the Excelsior. A win for either team will likely see them secure the top spot and this is the match everyone's been waiting for from week one.
Make no mistake, Spitfire were the undisputed kings out in Korea. This roster is a combination of some of the very best players from Kongdoo and GC.Busan and we saw their sheer dominance against Seoul.
The criticism levelled against London when they were made was that they may struggle to adapt to the Western playstyle. However, they showed when dismantling Seoul against many people's predictions that they are still amongst the best against familiar foes. New York Excelsior will likely be feeling the heat, so it'll be a truly intriguing affair.
The winner will be crowned
Ultimately, the second and third place will face off in the first match of the playoffs before the winner joins the top seed in the final. It means we're going to have a truly great weekend of Overwatch – and who knows – we may well have a surprise victor.
London and New York have to be the two in main contention – but here's the chance for the likes of Houston and Boston to show the world exactly what they're made of. Do not miss it.