Sub zero temperatures and awful singing from Jake "SirActionSlacks" Kenner were simply not enough to deter eight Dota 2 teams from putting on a fantastic show in Washington last weekend.
Eight teams plodded out to Washington D.C. in arctic conditions to compete in the only unique event of the entire Dota Pro Circuit. The eclectic Moonduck studio hosted their first LAN event at The Armory and instead of Captain's Mode, it was Captain's Draft. Heroes not in the tournament-standard Captain's Mode such as Dark Willow and Pangolier both made appearances as the limited heroes available tested teams to play well and truly outside of their comfort zone.
I would say we are pretty lucky in this tournament xD and some skills of course anyway great tournament and super tough grand final and I'm happy hehe 🙂

— MidOne (@midonedota2) January 7, 2018
Team Secret stage fabulous comeback to all but secure a spot at The International
We're only into the first month of 2018, yet it looks like we have our first team qualified for The International. Given that Valve has already stated that eight teams will qualify through Dota Pro Circuit ("DPC") points, it would take a complete collapse from Team Secret to fail to qualify for the flagship tournament come August.
The talented roster spearheaded by legendary captain Clement "Puppey" Ivanov claimed the Enchanted Mango trophy, $108,000 and 150 DPC points but didn't do it the easy way. Given the fact that 17 teams have earned points thus far in the campaign, and a quarter of the points have been given out, a staggering percentage of teams in the seven spots below Secret would have to achieve optimal results to dismantle Secret's charge towards Dota's biggest tournament.
The first game in the series saw Team Secret draft German offlaner Adrian "Fata" Trinks an unorthodox Ogre Magi. Chinese squad Vici.Gaming opted for a more orthodox draft (by Captain's Draft standards), taking a support Doom coupled with a safelane Faceless Void and mid lane Medusa. The game was firmly under Vici's control until the 25th minute mark when it all came crashing down in dramatic fashion. The Chinese squad had a dominant 25-3 kill lead at the 25 minute mark and the deficit looked insurmountable at times. Alas, cometh the hour, cometh the man. Babyfaced Danish carry Marcus "Ace" Hoelgaard continued to play his own game and it eventually reached a point where Vici simply couldn't handle the 23-year-olds Lifestealer. Secret would overturn a 14,000 gold deficit and go on to wrap the game up just after the 40 minute work.
For those who play Dota 2 casually, everyone knows that a team has no counter to Storm Spirit, any decent player will single handedly rip a team to shreds if given the chance. The second map saw Secret absolutely decimated by Zhang "Paparazi" Chengjun's Storm Spirit in only his third match in professional Dota on the hero. Incidentally, he actually lost the other two. After dying in the 12th minute, Paparazi executed flawlessly to end the game 15-1-10 as the Chinese squad immediately levelled the series.
The third of the best of five was arguably the worst, with Team Secret simply getting runover by an innovative draft from the Vici gang. Using a traditional combination in Shadow Demon and Luna, the raw pushing power from the Chinese side was remarkably high. They then added in an offlane Tiny as well as a support Alchemist and Team Secret just simply couldn't handle them. With a set of barracks and all outer towers lost at the 23 minute game, Secret tapped out and decided to focus on what could well have been their last game at the tournament.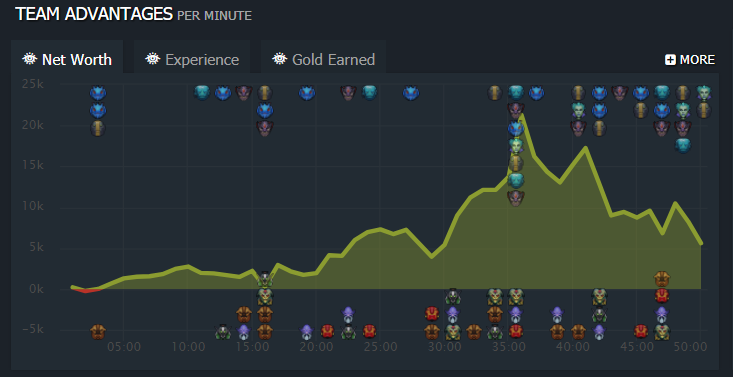 When looking at the above graph, one would assume that the team in green, i.e. the Radiant cruised to victory despite throwing away a few easy kills towards the end of the game. A gold lead of over 20,000 at any stage of the game is not a small amount by any stretch of imagination. Well, in this case, the red on the graph depicts Team Secret – the eventual winners of the game, as they mounted truly the most remarkable of comebacks with Yeik "MidOne" Nai Zheng playing sensationally on his Ember Spirit. It was a victory not many expected, but was truly remarkable in its nature and will be remembered by Dota enthusiasts for a long time to come.
What better way to round off a meme-filled weekend than a Meepo pick? Team Secret duly obliged, letting Ace loose on the extremely situational, micro intensive hero. The surprise pick came out last in the draft and Secret ran riot with a weird aggressive trilane featuring a Shadow Fiend, a solo safelane axe and a mid lane Ace Meepo. With 958 XPM and 794 GPM and 392 last hits in just 30 minutes, Ace's Meepo was truly unstoppable and Vici were powerless to prevent the demolition train. Mega Creeps were obtained around the thirty minute mark and as the first of two tier four towers fell, "good game" was called by the Chinese squad that came so close and Team Secret claimed another DPC title.
With Galaxy Battles II having its major status revoked amidst player privacy fears from Valve, there's set to be a little while with just qualifiers for avid Dota fans to watch. The top tier LAN action will return with ESL One Genting come the end of January, however.