Welcome to part 2 of the Green Man Gaming top 10 Halloween Costumes for 2019, if you haven't already be sure to check out part 1 for the first 5 entries in our list. Now, on with the show!
5. Sabrina – Chilling adventures of Sabrina

Anyone else hyped for season three? We certainly are, we've been on quite a journey with young Sabrina and her sisters. If you haven't seen it before, we highly recommend checking it out, it's well worth a binge. Compared to the original it's super dark and gory, and has a great plethora of outfits to pick from, a lot of the fashions are based on sixties fashion. The specific term when searching for the right kind of dress is 'Peter Pan Collar', it took forever to find this style but matches Sabrina's iconic red dress perfectly, and it looks great in black or red, pair this with a white lace front wig and black hairband. Try to resist selling your soul to the Devil while you're out there though!
4. Casual Thor

With Endgame smashing box offices this year, it would be wrong not to put at least one of these amazing characters in the top ten, but with a twist. We were taken aback with Thor's raw 'let himself go' look. Great thing is that it will be easy to wear out and is super comfortable. Get out your favourite printed pj bottoms, any old t-shirt and a heavy knit cardigan. Props wise, to make it obvious, get yourself the iconic Stormbreaker axe, or even Mjolnir, and wear a fake beard and long hair, as messy as possible. If you want to go one step further, stuff a pillow under your tee. Bonus points for using the "he's a friend from work" line every time you see someone you know at the party!
3. Maleficent

All aboard the hype train for Disney's new Maleficent: A Mistress of Evil out now in cinemas, just in time for Halloween. Her outfit, seemingly complicated to achieve doesn't have to be, you can exchange the headdress for easily purchasable big black horns, and keep your hair down, for an equally sleek look. Keeping it casual, wear black, printed with snake skin or wear wet look lycra, it'll have a great impact. Pair with heels or black boots to give a towering feel over your minions. Lastly for more obvious cheekbones, exaggerate with darker make-up applied under the cheeks.
2. Beetlejuice

We love the Eighties, and one of the best comedy horror films ever was Beetljuice, his outfit will make you stand out in any crowd. Start with a two piece black and white striped suite, now depending on how picky you are, you can get a jacket or top and trousers, stripes don't quite have to match. For the hair, back comb your own hair and get some spray in colour to get it on the green side, or pick up a wig. For the makeup, use black eye shadow around the eyes, you can also lightly powder your face in white, or use a facepaint to have a whiter finish. Beetlejuice, Beetlejuice, Beetlejuice!
1. You guessed it, the Joker!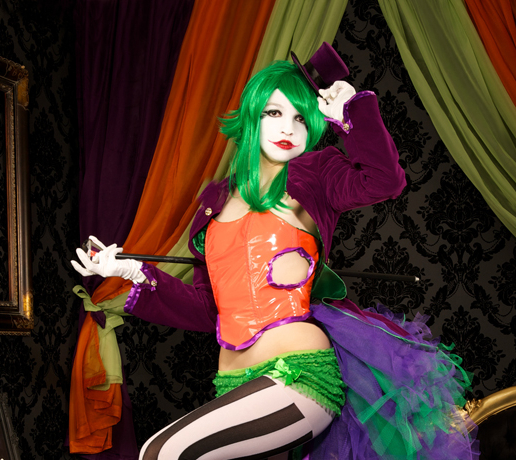 With a new film hitting our screens, Joker has had a new lease of life, with a new actor and outfit to boot. We can see this being the latest costume to hit conventions, and just in time for Halloween, it's perfect. The great thing about the Jokers costume, is how many variations you can have on the original, and from the various films he's been portrayed in. Match your suit colours with maroons and purples, works well for men and women. Snazaroo do a great range of face paints that are top quality with long lasting wear. Bring out your inner clown prince of darkness! That's our top picks for haloween this year. Do you agree with our list? Tell us who your going as in the comments below and Head on over to the Green man Gaming Community site to see who everyone else is dressing up as this year.
To find out more about our Cosplay expert be sure to check out AlienQueen on Facebook and Instagram.
So who are you going as? comment below and visit the Green Man Gaming Community site to see what our gamers are wearing.