Green Man Gaming's Log: Stardate 47634.44
We have travelled to the Twitter Sector for a standard reconnaissance survey of the sect known as 'Twitter-Followers'. The question: who is the greatest Mass Effect character of all time?
We started with an initial wide spectrum query, asking the inhabitants of Twitter Sector who their favourite characters were. From this highly scientific survey of many significant variables, we identified the four following inhabitants of the Mass Effect Galaxy who could be investigated further.
We also received one report of an Elcor with a cigar, but that was dismissed as our science officer was suffering from Chamberlin Virus and might be seeing things.
We will spend the space-weekend compiling the results, and present our reports on the space-Monday.
Green Man Gaming's Log:Stardate 47637.44
After a full space-weekend of data analysis, analysing data, looking at data, and analysis of data, we narrowed the survey down to the four following inhabitants of the mythical galaxy known as 'Mass Effect'.
Tali'Zorah nar Rayya

This inhabitant appears to be a humanoid who is disguised as a space suit. No reports exist of her face, we do not know in fact if the suit helmet is actually her face. Our initial report indicates that she can change name at will, sometimes being known as Rayya and other times as Normandy, presumably after the place in France. Intelligence reports her to be a robotics genius, able to summon a floating friend who can do battle with her. Our threat analysis rates her at 5.3.
Mordin Solus

This individual seems to be some sort of lizard-beast, possessed of a vast intellect and powerful singing voice. A secret report that our Section 31 staff was able to liberate states that in some quarters this jocular figure is considered a war criminal, and in others he is considered a saviour of entire species. We cannot reconcile this dichotomy, and initial attempts to contact this creature have met with failure. Our threat analysis rates him at B+.
Legion

Upon sending a probe into the Mass Effect Galaxy it was met with a burst of static. Focusing in on this signal, we found an artificial intelligence that dubbed itself 'Legion'. This being appears to be either an amalgam of separate AIs or one AI masquerading as several. It appears also to be, in the words of our chef, 'an utter Shepard fanrobot' whatever that means. We steered our probe away after making contact, as frankly this frightened us a little bit. Our threat analysis of Legion rates it at 85%.
Garrus Vakarian

Another lizard. Is this galaxy all lizard?
Anyway. This individual appears to have suffered some calamity in its history, comprehensive scarring covers part of its face, and battle damage mars its armour. Reportedly a fan of 'calibrating', our chief engineer expressed excitement when hearing this (something about a 'kindred spirit'). Other reports from the Mass Effect Galaxy also state that this individual is a 'fan favourite' and a 'hot lizard bro'.
Again we broke contact at this point, as we continue to be slightly frightened by what we're finding in the Mass Effect Galaxy. Our threat analysis leaves Garrus at 14.2.
After compiling this data, our main computer suffered a critical failure, meaning in order to rank them according to popularity we turned once again to the inhabitants of Twitter Sector.
Green Man Gaming's Log:Stardate 47638.44
Our Twitter Sector inhabitants have reported back to us with full results of our survey. They have weighed, cogitated, thought, comprehended, and mused, and come up with the following results: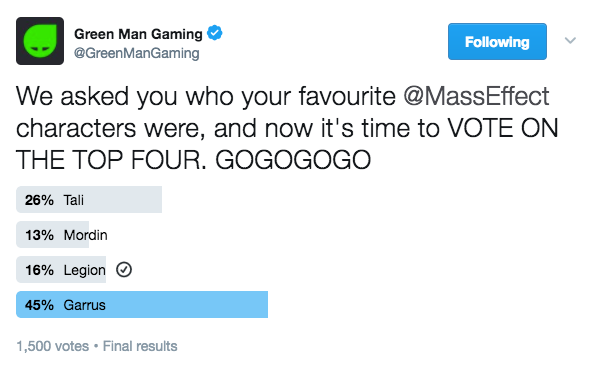 The results clearly show a strong lean towards the Garrus Vakarian individual.
This closes our report, Garrus Vakarian is officially the most popular character in the Mass Effect Galaxy.
Please keep checking our Twitter Sector, as further scientific reports and analysis will be ongoing there. Disagree with our highly scientific methodology and results? Let us know below!