The fourth annual TwitchCon event took place in San Jose California over the weekend where CEO, Emmet Shear, announced a number of exciting new features coming to Twitch. With users spending 760 million hours per month watching others game and with 2 million streamers broadcasting per month in December 2017 alone, the TwitchCon conference highlighted the channel's response to the valuable feedback received from their users. Shear announced Squad Streaming, Twitch Sings and a new Snapchat camera amongst a number of other extensions to be launched in the next few months to help streamers grow, connect, and thrive. Let's explore some of these new features in more detail…
Squad Streaming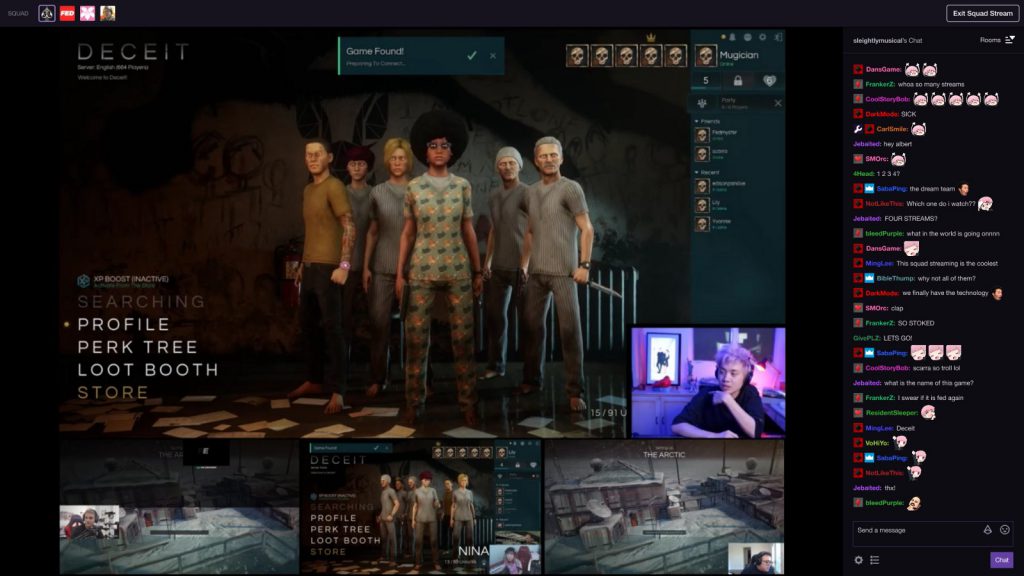 Select streamers will be testing out a new squad stream feature that allows up to 4 people to broadcast at once in a split-screen. Viewers will be able to discover the squad stream when they visit any one of the participating channels. From the stream, viewers can then easily follow and subscribe to all involved channels.
Snap Camera
Twitch users can now use Snapchat's augmented reality lenses on their streams thanks to a partnership with the Snap Camera desktop app and a custom extension built just for Twitch. Streamers can use hotkeys to trigger different Snapchat Lenses, with specific game-themed lenses for League of Legends, PlayerUnknown's Battlegrounds, World of Warcraft and Overwatch. There will also be custom lenses created for the Twitch community, such as angry lenses for when a game is lost and a rain of bits to celebrate cheers. Streamers will get a button that lets viewers subscribe to them and can set up a 'bonus' lens that shows up as a thank you when someone follows them. Viewers will be able to try on the different masks used by streamers by scanning an on-screen Snapchat QR code.
Bounty Board
With more than 235,000 streamers holding affiliate status on their channels and 6,800 users earning through Twitch's partnership programme, Twitch have recognised the need to make it easier for streamers to find further sponsored opportunities. The idea is to make it easier for streamers to find opportunities that feel authentic, align with their communities' interests and in turn help their channels thrive. Partners and select affiliates in the US and Canada will soon be able to use the Bounty Board, before the service will be opened up to more affiliates and more countries such as the UK in 2019.
Twitch Sings
In a newly built-in partnership with Rock Band-creator Harmonix, Twitch will soon be launching Karaoke capabilities on their channel. Combining an always-entertaining singalong experience live with an engaged community of viewers is certainly a unique new way of encouraging further viewer-broadcaster engagement. Streamers can perform karaoke on their channels, duet with their community, and share their performances across Twitch. Viewers will be able to use the chat to request the next song and control the lights on the virtual karaoke stage! If it couldn't get more exciting, Twitch are also introducing a feature where bits will rain down on the crowd as viewers cheer.
Other new and interesting features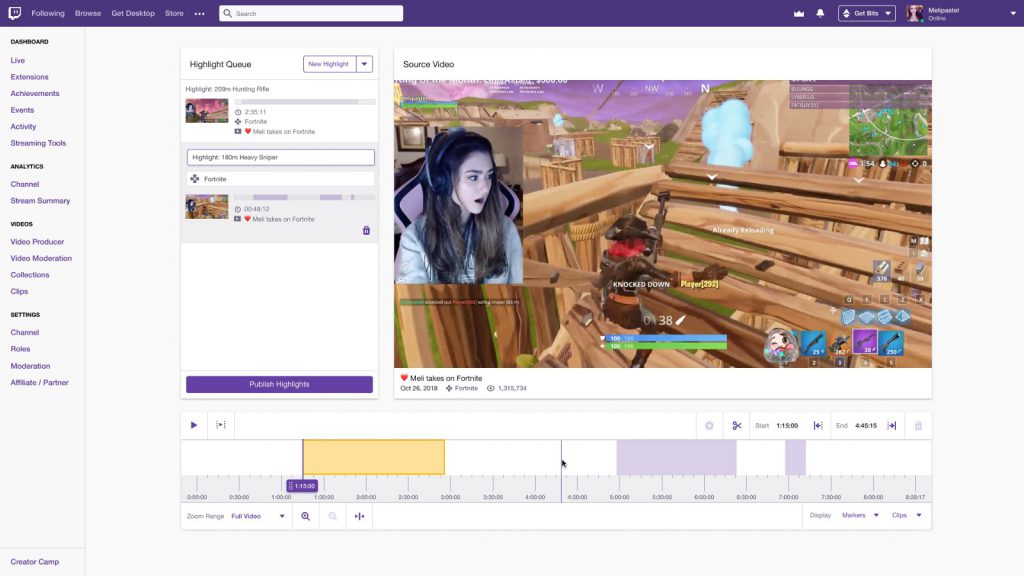 As well as the larger updates discussed so far, there are a number of further additions designed to improve the Twitch user experience:
• Highlight editor: Allows streamers and editors to stitch together multiple clips from across a video into a single highlight.
• Featured section: A new area on the Twitch homepage that will highlight up-and-coming streamers, new partners and affiliates, or streamers local to the viewer.
• Subscription & VIP badges: Rewards consistent supporters by showing the total number of months they have been subscribed to a channel and lets creators recognize their favourite subscribers and moderators.
• Role management page: Streamers will be able to see and change their community members' roles from editors, to mods, to VIP from the new roles section on their dashboard.
• Gaming Tournaments: The Twitch Rivals in-person gaming tournaments will double to 128 events in 2019. Last year $5 million in winners' jackpots was given out and some million-dollar prizes can be expected over the next year.
For more details, check out the Twitch blog.
We're really excited to see all these changes benefiting our influencers' streams soon and would love to hear any feedback you have!