Anthem has just been announced at the Microsoft E3 conference, and it looks exciting. Set in a mysterious and colourful world, you embark on missions whilst wearing robotic mech-suits, which looks cool as hell, and are highly customisable. Knowing Bioware there will probably be a lot of RPG elements too; we can see there is levelling and loot already. As a cooperative game as well we'll be watching this one very closely. Here's 5 reasons you should get excited as us.
Bioware's Take On Warframe
For those who didn't play or know about it, Warframe is a cooperative game where players run missions as ninja-mech-robots. You can customise them highly, there are a very varied selection, and you take part in missions to gain loot and grind your skills. Anthem looks a lot like it, but with a colourful, post-post-apocalyptic world, suits instead of robots, and big scary monsters. In Warframe, the robots (warframes) that you use were left over from a war; a direction I can imagine Anthem taking, as the suits seemed pretty rare and hi-tech for the human civilisation we saw. Fingers crossed its just as fun.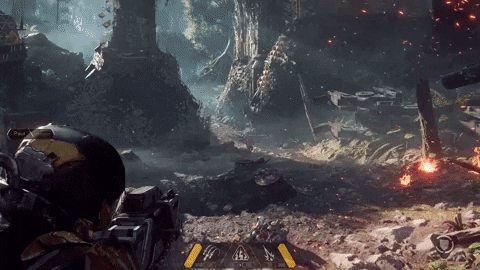 Ironman Simulator
In case you were not aware, or haven't seen my avatar/online name, I'm a big fan of Ironman. I'm painfully aware there hasn't been a game that brought me the experience of having ironman-esque suits that could fly, punch, launch rockets and talk to your girlfriend for you. Apart from the latter, the suits in Anthem seem to do all those things and more. Sticking to the Ironman theme, there are multiple different types too, some heavy, some light, and they are highly customisable from the paint job to the shoulder-mounted weaponry. Here's hoping we get some beam weaponry or a Hulkbuster suit equivalent.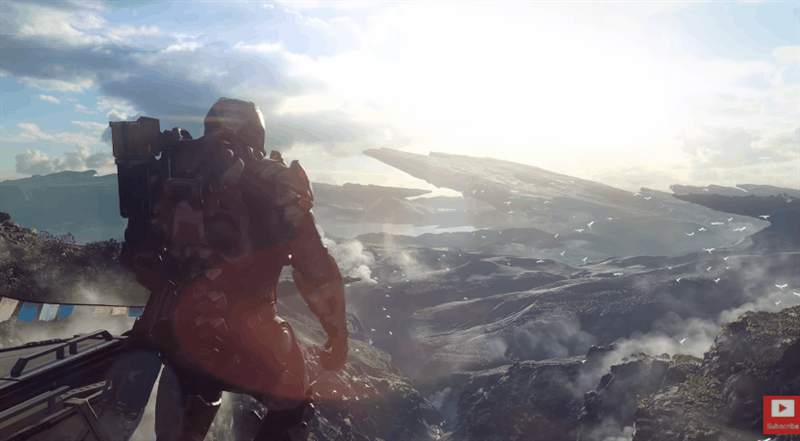 Fascinating Setting
We've seen Bioware do fantasy (Dragon Age), we've seen them do sci-fi (Mass Effect), we've even seen them revolutionise RPGs in science fantasy (Star Wars), so it's only fitting that they turn their hand to the post-apocalyptic setting. But in Anthem they seem to have gone the Horizon: Zero Dawn route of setting it when nature has reclaimed the Earth, and humanity is living in small settlements with what tech they have left. Maybe it's not even Earth and there are other planets. Maybe it's not even post-apocalyptic and it's an alien planet that humanity is trying to colonise? Either way, I'm looking forward to finding out.
Bioware's Latest IP
Bioware have been working on Star Wars, Mass Effect and Dragon Age exclusively for years, with Dragon Age being their last new IP when it was released in 2009. Now they've announced Anthem, it's time to see what they've learnt about establishing universes, and we know how much they've learnt about making epic worlds just by comparing the first Dragon Age, Mass Effect and The Old Republic games with their sprawling, content-filled current titles. I'm really excited to see what Bioware can do once again.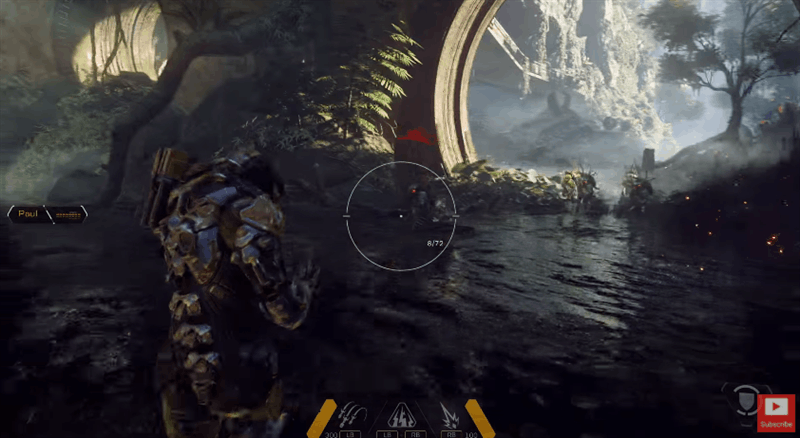 Drop in/Out Co-op
In the video that we've seen, it starts with 2 players and then 2 more drop into the party seamlessly. This was one thing that was remarkable about Borderlands, as you could see your friends were playing, and simply hop on to join them, and hop out when you wanted to leave. I don't know what's cooler; having your OP mate come in and wow everyone in the party, or being the OP one and going to help your newbie friends. Either is great, and one thing that's been missing from Bioware titles is some great co-op. We've seen it a bit in The Old Republic MMO, and some Mass Effect/Dragon Age multiplayer, but a cooperative story is going to be fantastic.
What do you think of Anthem? Are you glad Bioware is working on a new IP?