Wow.
We started this competition two weeks ago and to be honest, we weren't sure how many entries we'd receive.
It's safe to say our expectations have been absolutely and utterly destroyed. We received so many entries, and so many wonderful entries, that we had to take some more time to judge them. After much deliberation we have our winners, and here they are!
Things to do in Conan Exiles by Valtheknight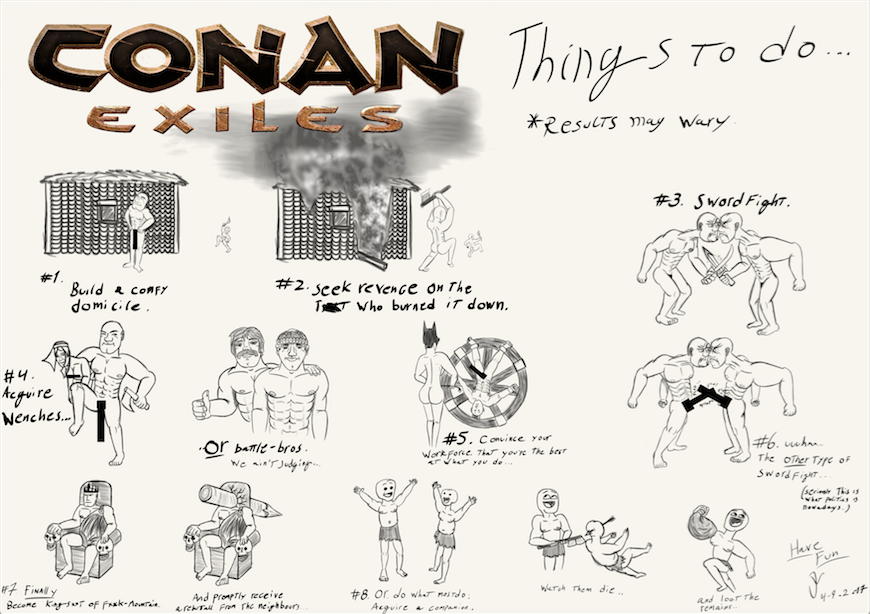 Poem by Gavin Horne
With bated breath the crowd did gather,
To see the warrior who none could fathom.
With rippling muscles and scars upon his chest,
With Iron Sword aloft, onward he pressed.
He had come for the Tyrant who owned these lands,
With Murder in his eyes and blood on his hands.
No-one would stop him but they too were weary,
Because a man like that is anything but cheery.
"Where is the master?" His voiced cracked and boomed
The nearby folk pointed for fear that they were doomed.
The warrior looked up to the manor nearby,
His face glistened with a smile so wry.
His pace quickened as he went through the town,
The guard's had took note of this enemy of the crown.
They encircled him quickly and they poised to strike,
But this warrior would not be a head for their pike.
He charged at their captain, and swung his great blade.
The Captain's head was severed and blood gushed and sprayed.
The warrior dodged and parried with ease,
The attacks from the guard's gave him little reprieve.
He swung and he chopped, and twisted and kicked,
The outcome, the crowd could not predict.
Before long however, the warrior stood alone,
In a mass of dead bodies, blood, sinew and bone.
He cleaned off his sword on the cloak of a soldier,
He looked up at the manor and regained his composure.
The crowd stood and stared in pure disbelief,
For they knew that the Tyrant's remaining life would be brief.
As he walked on to the manor he turned and he said
"When I return, anyone still here will be dead".
With no more a warning the crowd quickly ran,
I never looked back as my mother clutched my hand.
I sometimes do wonder what else happened that day,
Because legends like that will never fade away.
But one thing I know that will always be true,
When a warrior tells you to run, you simply do.
Conan Teaser by Bendeguz Szatmari
Poem by Devilspear
During the war, I was a young man.
I was stupid, and I was reckless.
I did foolish things, but I never lost sight of the cause.
When I lost Nari, I was a changed man.
But after the desert, I was a different man entirely.
I have killed people.
I have tortured people.
I have burned their homes.
I have taken their children from them.
I wonder sometimes,
If my fury has clouded my focus.
But I'm not sorry for the things I've done,
Though I know you must be ashamed of me.
I miss you, Nari,
And I love you.
I'm coming to see you.
Very soon.
Land of Exiles by Jaka Pogačar
The sun sets over the land,
the serpent slithers in the sand,
anguished eyes forfeiting what is known,
a grey man exclaiming: 'Behold!'
He remembers being cast out of his homeland,
picked like a fruit of a barren tree,
shunned and forgotten in an endless sea.
With steel in his heart and strength in his arms,
braving the roads ahead,
his footsteps denying dread.
Wayward winds ravaging the earth,
questing for the Warrior's worth,
the things that fate holds true,
a rising storm through and through.
To await judgement of the Gods,
who would question them as frauds?
In an Age yet to name, a wilderness yet to tame,
to find glory or death, forgotten in the sands.
A light fades and the travail awaits.
The hyena howls, bowstring snaps…
The axe sings, blood flows…
And there the victor rose.
Unbent and unbroken, the winds roll away,
the clouds break free, a rain hails thee,
for a new 'morrow brings clarity.
Wit strong as a sharpened blade,
now come the secrets unmade.
Now rise the brave and the willing,
to conquer the land, hope fulfilling.
Thus the sun rises over the land,
thus the serpent covers in the sand,
eyes recalling what was unknown,
a hardened man exclaiming:
'Warriors, do not yield before the next fight,
rise and face the oncoming trails,
in this kingdom of Exiles,
where your rule is might!'
Congratulations to the winners! Please check your emails as we'll be in touch with your keys soon!
However we have a surprise, one entry took us so off guard that we had to declare them our Grand Prize winner!
Congratulations to Lucas Popovici who did this wonderful picture for us:
Surviving the wrath of Gods by Lucas Popovici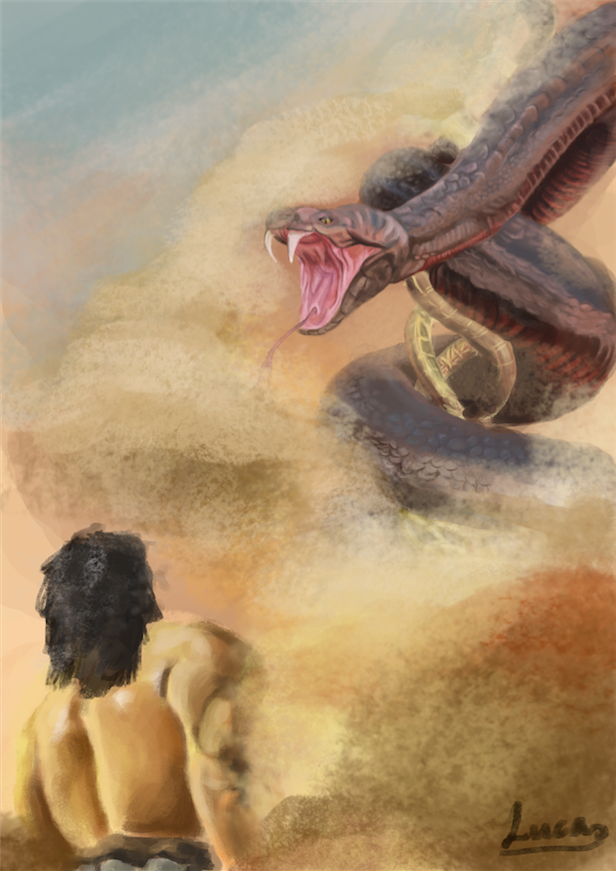 They are the recipient of a key for the Barbarian edition of Conan Exiles!
Thank you to all entrants and thank you to Funcom for the keys, we'll be posting some runners up over the next week. Please also keep an eye on our Twitter and our Blog for more giveaways and competitions!