Hell Let Loose is an Early access game from developers Black Matter, published by Team17. The game went into Early Access on June 6th 2019 with plans to launch 12 months later.
Gameplay
It is a 100-player authentic multiplayer first-person shooter for PC, set during the Second World War, with emphasis on teamwork and communication as infantry, tanks and artillery clash in a tug of war style, objective capture based war simulator.
There are three different maps currently available with a fourth currently planned for release during early access: Saint-Marie-du-Mont, Hurtgen Forest and Foy with Utah Beach coming soon.
Roles
In total, there are 14 different roles each with their own load-outs, each class also has a variation depending on whether you are playing on the German or American side. The roles are: Rifleman, Officer, Machine Gunner, Automatic Rifleman, Medic, Assault, Support, Anti-Tank, Engineer, Sniper, The Spotter, The Crewman and The Tank Commander with the 14th role The Commander coming soon.

Rifleman
This role is armed with a semi-automatic rifle, explosive grenade, bandage and a small ammunition box. The Rifleman is great at mid to long range and can use his ammunition box to provide extra ammo to his fellow soldiers while his explosive grenade can flush enemies out from behind cover.
Officer
Officers are equipped with an SMG, Pistol, explosive grenades, smoke grenades, bandages, a watch (for placing Garrisons and Observation posts) and a pair of Binoculars. They have the ability to place Garrisons (teamwide spawn points) and Observation posts (Unit-only spawn points) allowing you to reinforce your positions quickly and easily in the heat of battle. You can also use the officer only chat channel to co-ordinate attacks with other officers and make sure your all on the same page, before issuing orders to your own unit.
You can also provide descriptive location markers using your binoculars to observe, Attack, move to, defend, request supplies and provide fire support on a specific location.
Machine Gunner
Machine Gunners are equipped with (surprise surprise) a machine gun, a pistol and a bandage with their main weapon having limited accuracy when firing from the hip but it has the option to deploy bipod legs to provide heavy fire support from a fixed position.
Automatic Rifleman
Armed with an automatic rifle, explosive grenade and bandage, the Automatic Rifleman is the best of both worlds having good firepower and high mobility for close to mid-range dominance.
Medic
Medics have the ability to revive downed team mates, meaning your unit won't have to wait for a respawn to be back at full strength allowing constant pressure on enemy positions. Armed with a simple rifle, a pistol, smoke grenades, morphine and a bandage.
Remember, once a team mate has been revived you need to bandage them as well before they can return to the battle.
Assault
Armed with a powerful automatic rifle, explosive grenades and bandages, the Assault role is as its name suggests, the tip of the offensive spear. Used to charge positions and rain down maximum damage they are also very effective at holding positions against oncoming enemy assaults.
Support
Carrying a semi automatic rifle, explosive grenades, a bandage and "supplies", the support role works closely with officer, anti-tank and engineer roles to assist in deploying important spawn points, heavy weaponry and fortifications.
Once supplies are placed by the support, the aforementioned roles can place a Garrison, anti-tank gun and fortifications respectfully. The support role is flexible enough that he can easily join other Rifleman, Assault and Automatic Rifleman roles at the front, once he has dropped his supplies.

Anti-Tank
With a semi-automatic rifle, RPG type weapon, explosive grenades, a bandage and his trusty wrench, the Anti-Tank role is very much its name sake. Using the wrench you can place anti-tank artillery to provide much needed support for breaking through the enemy front line.
Engineer
The engineer is one of your most versatile assets. Though only armed with a simple rifle as its main weapon, they do carry anti-personnel and anti-tank mines along with their own wrench and bandages. The Engineers wrench can be used to deploy either barbed wire, tank traps or sandbags when in proximity to supplies. It has another use though, in repairing friendly tanks and other vehicles.
Sniper
Every infantryman's greatest fear is that a sniper is always watching. Armed with his trusty sniper rifle, a pistol, explosive grenades and bandages. Paired with a spotter, the sniper is the only role to have a scope on their weapon, allowing them to recce and engage with the enemy well outside their own weapons range and before they even know your their.
Spotter
With your primary goal being to lead the sniper, the spotter carries an automatic rifle, explosive grenade, anti-personnel mine, a watch for spawn placement and some bandages. A spotter is also an officer with a much smaller unit to command. The spotter can use his binoculars to relay battlefield information back to the commander, while also guiding your sniper onto unsuspecting targets. Lastly, a spotter can deploy observation posts to keep you and your sniper close to the battlefield.
Crewman
As a crewman you will spend most of your time inside a tank, either driving it or loading and firing it. Under the guidance of a Tank Commander you will jump inside to man the steering wheel, which also comes with access to the hull machine gun, or the main gain where you will choose between armour piercing rounds and high explosives as well as using the coaxial machine gun. Armed with only a pistol and bandages, the Crewman does come with a tank included.
Tank Commander
Armed with a semi-automatic rifle, pistol, bandages and a pair of binoculars, the Tank Commander is an officer in charge of two crewman, a driver and a gunner. The Tank Commander may also be called upon to fill either of these roles themselves should the need arise, your role is to provide crucial information to your crew from the best view in the house.
Hell Let Loose Beta Roadmap
There is a full roadmap available to view that provides details on new content coming to the game during its Early Access period, this includes details of new vehicles, animations, cosmetics, stat tracking and improvements to UX/UI and Gunplay. They roadmap also teases the addition of a flame thrower.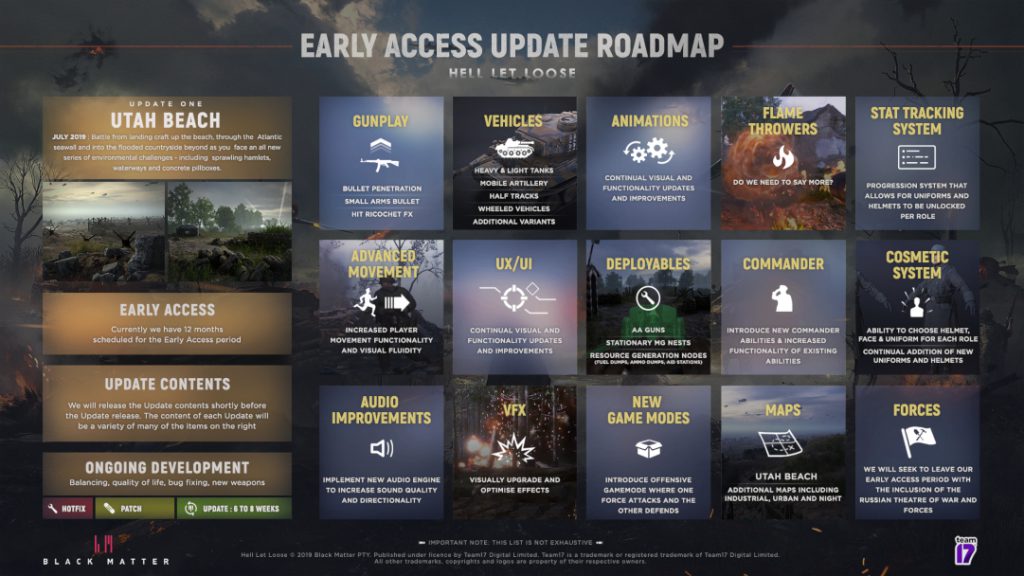 Other information
Hell Let Loose supports text chat as well as three separate VoIP channels allowing you to communicate in your proximity, with your unit and with Officers and Commanders with separate commands for each channel.
The team also supports clans and holds regular meetings with clan leaders to gather feedback. There are plans to support clan events and competitions in the future and you can join their Discord server to find out more.
System Requirements
The minimum hardware requirements to play Hell Let Loose on PC are :

OS: Windows 7
Processor: i3-4130 @ 3.3GHz / AMD FX-8350 @ 4.0GHz (or equivalent)
Memory:8 GB RAM
Graphics:GTX1050ti / R9 280 (or equivalent with minimum 2GB VRAM)
Network: Internet connection required
Disk Space: 20 GB available space
DirectX: Version 11
Architecture: Requires 64-bit operating system
Additional Notes: System Requirements subject to change as development continues.

To get the best experience though you will need the following:
OS: Windows 7
Processor: i5-7600 @ 3.5GHz or Ryzen 5 1600 @ 3.2GHz
Memory: 16 GB RAM
Graphics: Nvidia GTX 1070 or AMD RX Vega 56
Network: Internet connection required
Disk Space: 20 GB available space
DirectX: Version 11
Architecture: Requires a 64-bit operating system
Additional Notes: System Requirements subject to change as development continues.

How to play the Hell Let Loose Beta?
Hell Let Loose is available on the Green Man Gaming store now granting you access to the full early access game as well as all future content. It is currently only on PC with no news of it releasing on any other platform. Stay tuned as we will be updating this article when new content is announced and released. You can also find out more on the games official website.
Follow us on our social channels to stay up to date with all the latest games and deals from Green Man Gaming.