The Division 2's private beta has happened already but this weekend, Ubisoft is releasing another beta, this time, it's an Open Beta which means everyone can play the game, for free.
Ubisoft are giving everyone an opportunity to try out the anticipated action role-playing game from 1 – 4 March before its release on March 15th across all platforms (PC, Xbox, and PS4) .
Trailer
There's a new trailer to boot before the big weekend too.
Beta Date and Times
The open beta will be available on PC, Xbox, and PS4 and will run from March 1-4. However, players can begin pre-loading the Open Beta starting February 28th at 9 am GMT on any of the platforms.
Check below for correct timings in your region.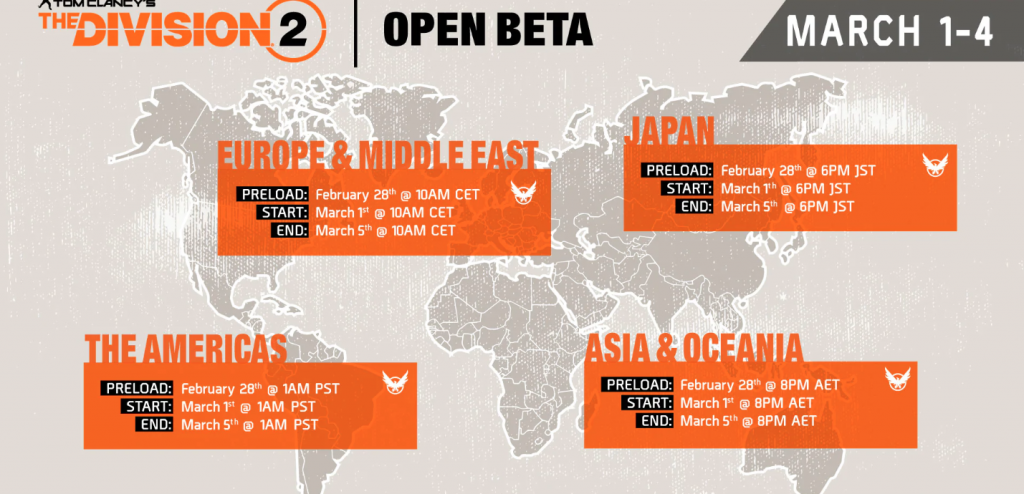 Missions and Modes
During the Open Beta, players will be able to participate in three main missions on Normal and Hard modes. Two of the missions were featured in the private beta, so those that missed out will get a second chance to take part in the Grand Washington Hotel and Jefferson Trade Center missions. The Open Beta introduces a brand new mission; Viewpoint Museum.
Alongside the three missions, there will be five optional side missions that players can explore in the open world including D.C, The White House, Downtown East, The Federal Triangle and the Smithsonian.
Players will also get a snippet of The Division 2's end game content, provided that the Jefferson Trade Center mission is completed at least once. This will give them access to an end-game mission that unlocks three level 30 characters on their accounts immediately. They will then need to log in as one of the characters to begin the endgame mission.

Lastly, players will get to fight in a Skirmish 4v4 PvP mode within the capitol ruins map and experience the all-new, revamped Dark Zone East.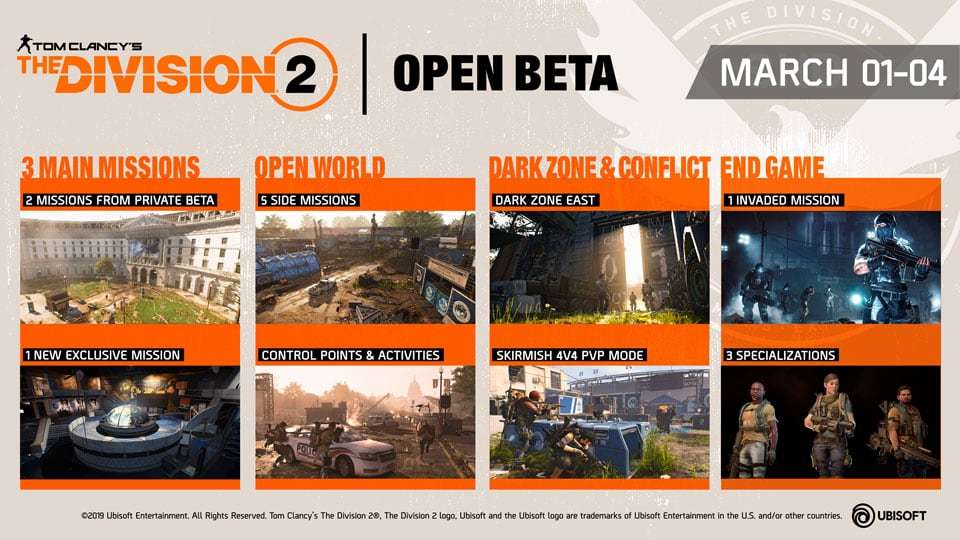 Rewards
There are also rewards that players can receive and will be available in the game when The Division 2 releases March 15, 2019. Here's how to get those rewards:
Participants in any beta will receive the DC Patriot Weapon Skin
Complete the invaded mission to recieve the Capitol Hill Arm Patch
Complete the Dark Zone East Introduction Mission to receive the Supply Crate Backpack Trophy
Participate in the Open Beta to recieve the Capitol Hill Backpack Trophy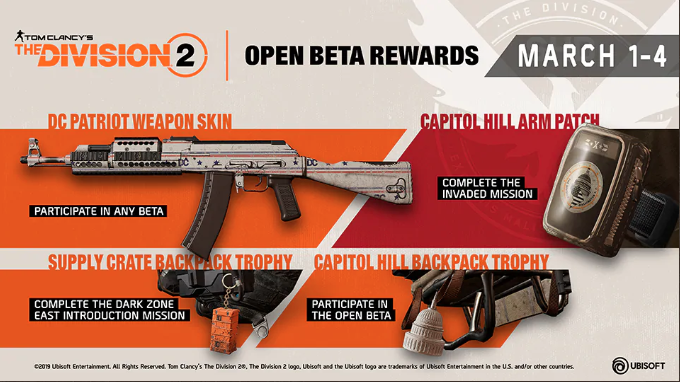 Pre-purchase Bonuses
The Division 2 can be pre-purchased from Green Man Gaming until release date. Those that buy from us will receive a free game (standard edition) of your choice from the following list:
Tom Clancy's Ghost Recon: Wildlands
Watch Dogs 2
Far Cry Primal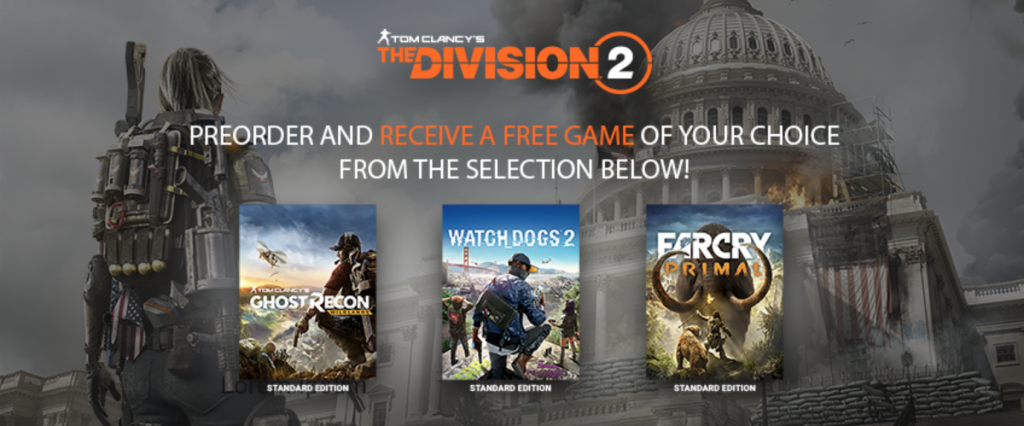 You'll also get The Capitol Defender Pack, which includes:
Hazmat outfit 2.0
"Lullaby" Exotic Spas-12 Shotgun
Weapon Blueprint, endgame version.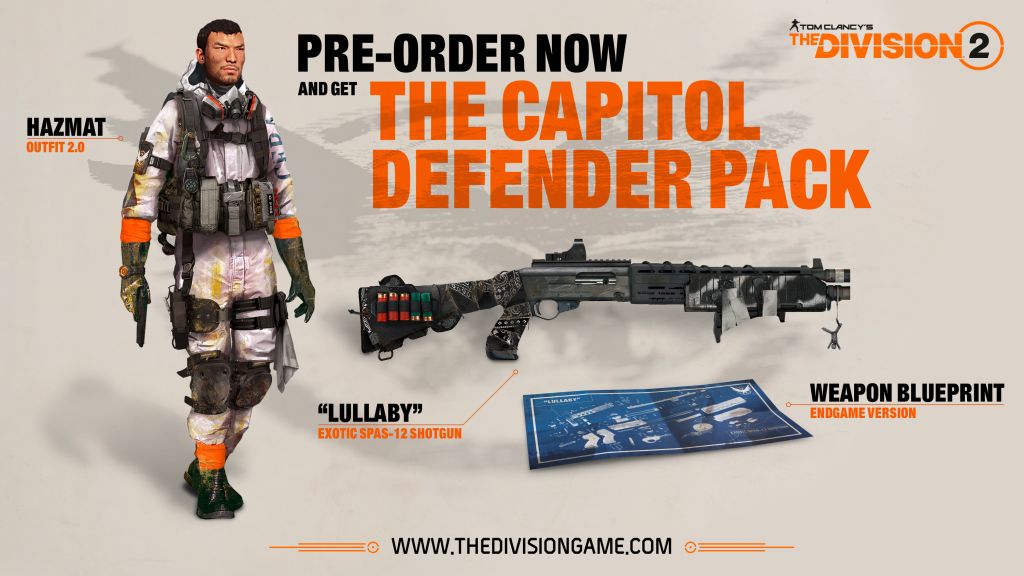 PC Specifications
Minimum Requirements:
OS: Windows 7, Windows 8, Windows 10
Processor: AMD FX-6350 | Intel Core I5-2500K
Memory: 8 GB RAM
Graphics:AMD Radeon R9 270 | Nvidia Geforce GTX 670
Disk Space:2 GB available space
Direct X:DirectX 11 | 12
Recommended Requirements:
OS: Windows 7, Windows 8, Windows 10
Processor:AMD Ryzen 5 1500X | Intel Core I7-4790
Memory: 8 GB RAM
Graphics: AMD RX 480 | Nvidia Geforce GTX 970
Disk Space:4 GB available space
Direct X:DirectX 11 | 12