Into the Breach is Subset Games' long-awaited new project, after their colossal success with FTL. I love FTL. You love FTL. The next game from the same minds is going to have enormous Half-life 3-esque expectations. But this isn't FTL 2, and so we shouldn't think of it as such. Whilst the pixelated art style is there, Ben Prunty is back (and better than ever), and the simple yet deep turn-based strategy is prevalent once again, Into the Breach is a very different game. Here's why.
It's a puzzle-tactics game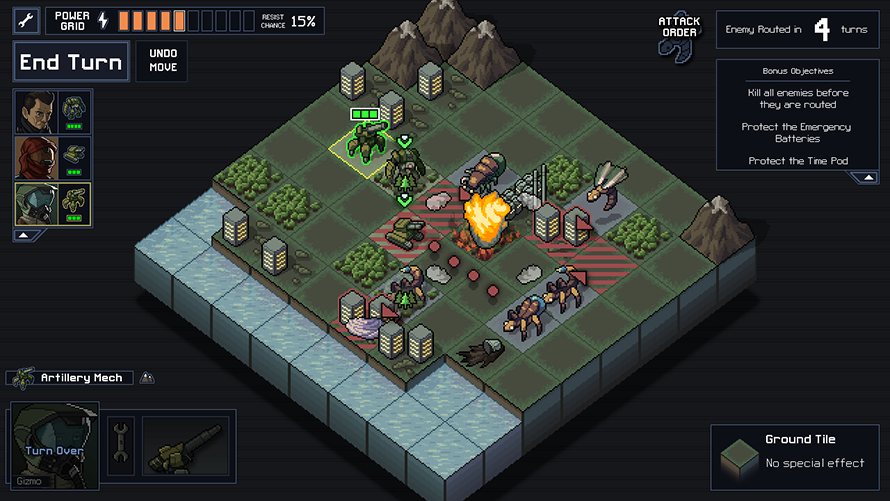 The biggest difference between the two titles is the way they play. This isn't a rogue-like about managing a spaceship, Into The Breach is you embarking on missions to fight off the insectoid race known as the Vek with a team of mechs. Each mission is presented as a different region like in Advance Wars, and you have so many turns to defend your base. You can see what the enemy is going to do on the next turn, so it's all about positioning and dealing with the incoming threats. You won't be so much trying to kill all the Vek but deftly manipulate them into hitting each other, knocking them off the map, or pushing them into a big AoE attack.
Each map has bonus objectives too, so the better you play, and the more settlements you protect, the more resources you can get to upgrade your mechs.
No RNG

FTL was built on RNG, that is, certain things would happen because of random chance. The encounters were random, the galaxy quadrants were random, the missions you got, the stuff in the shops, the amount of enemy missiles you dodge, was all completely random. In Into the Breach, there is no hit percentage chance. If you get the enemy into a disadvantageous position, nothing will stop you from executing your perfect plan. This is definitely a puzzle game, rather than a turn-based strategy. However you look at it, there'll be no 90% chance to hit misses like in XCOM. Sounds good to me.
Okay, some RNG

There are natural events that can affect the map, such as tsunamis and big holes appearing that can be used to your advantage, or really hinder your plans. The environment also plays a big role in your planning. Sand dunes that are hit can result in kicked up sand obscuring the enemy's vision, and forests can be set on fire to cause even more damage. Each of the four islands you have to fight on have different climates and introduce different themes that present new features. The icy continent's settlements are covered in ice, giving them more resistance to attacks. But it also bring with it more dangers to keep in mind.
Mechs instead of a ship

Each mission you can send out mechs to deal with the alien menace. You know that scene in Pacific Rim where they carry the Jaegers with helicopters then drop them in Hong Kong bay? Yeah, like that. Except cute pixelated Jaegers. The mechs are where a lot of the customisation comes in. You can get eight different squads, and equip different weapons and abilities. You can take long-range artillery mechs, big armoured fight-y mechs that throw enemies across the map, or specialised mechs that do things like freeze enemies. You can even get a randomly-generated squad, sort of a gamble button to either get a extremely strong squad or…not. The pilots themselves will level up and gain passive abilities, making them stronger and stronger…and more painful to lose.
You will complete it

Finally, one of the biggest differences from FTL, is that you will most likely complete this game. FTL was famous for being extremely difficult to reach the end of, let alone beat it. Into the Breach is a game that has no bonkers difficulty spikes, but lots of variety to explore, and that's what players will come back for.
In the words of the co-creator Matthew Davis: "We intend for people to finish the game and then go back and explore new options and let the randomness drive its longevity. You're always coming across new combinations that are fun and unique. I'd describe Into the Breach as something more like a board game. It's not that you beat a board game, but you take it out to play for an afternoon and then you put it away and come back and play it again. It's not something that you beat and then never touch again."
Into The Breach is out on the 27th February, and if you're still excited to play it despite it not being FTL, come chat about it on the community.