Warhammer 40,000 Mechanicus is an upcoming game from Kasedo Games. Featuring brutal turn-based tactics in the distant future, this game sees you take one of the most advanced armies in the galaxy to war.
That's right, Warhammer 40,000 Mechanicus puts you in charge of the Adeptus Mechanicus. From your forge worlds to the holy planet of Mars, the Adeptus Mechanicus is the technological backbone of the galaxy-spanning Imperium. It's tech vs tech as you'll be facing off against the Necrons, undead robots from the depths of time who are invading for their own unknowable purposes.
To celebrate the launch, Kasedo Games are running a competition for you to get your hands on some exclusive copies of Warhammer 40,000 Mechanicus as well as Warhammer 40,000 books, box sets, and more.
Sign_me_up.exe
Entering is simple – it's a colouring competition!
Kasedo Games have created seven 2D black and white character artworks from Warhammer 40,000 Mechanicus, and you can download them here.
Feel the spirit of the Omnissiah course through your electro-flesh veins and put colour to picture, using whichever medium you prefer, and then submit to enter the competition.
The Omnissiah is as fair as it is benevolent, so you can enter as many times as you like, but you can only win the once. What can you win? There are a pool of prizes for those entering on Reddit and those entering via social media (see below for details).
Now onto the important part, how to submit your entry:
To submit your entry via Reddit, you must upload your image/s (scanned, photographed or digital image)
to /r/Warhammer as a single image or Gallery. Your entry must include [Mechanicus] in the title.
OR
Submit your entry via Facebook or Twitter, you must upload your image/s (scanned, photographed or
digital image) publicly with #Mechanicus40k as a single image or gallery.
And that's it! You've entered.
Show_me_the_prizes.png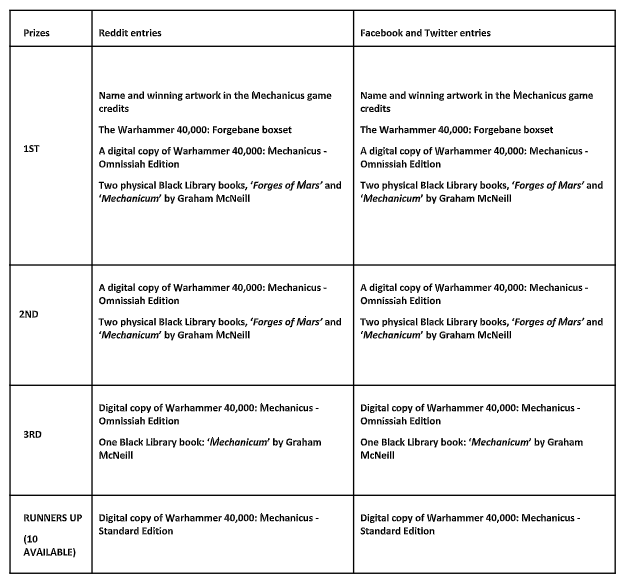 So there you go, all the info you need to get out there, get colouring, and hopefully win some brilliant Warhammer 40,000 Mechanicus prizes!
For more information on the game, please see here. Warhammer 40,000 Mechanicus will be launching on the 15th of November.