Nintendo held a press conference for the Nintendo Switch a few hours ago, we cannot wait to finally get our hands on the console when it's released in March. With that in mind here is all the information we currently know about this highly anticipated new console from Nintendo.
Release Date,  Price, Specifications, Controllers And Peripherals
Switch Release Date and Price
The Nintendo Switch will be released on the 3rd of March in Japan, the US, Canada, Hong kong, major European countries and other territories. The recommended retail price for the Switch will be £279.99 ($299.99 or ¥29,980).
Online Services
The Nintendo Switch will feature a few online services. These will allow players to invite friends to play games online, set "play appointments," chat, and much more. These features will be free to everyone during the console's post launch trial period, it will then become a paid service sometime during Fall 2017.
Tatsumi Kimishima, Nintendo's President stated that the company has "revised its approach" to region locking. He stated during the conference that the company has "decided that in general, we will not apply region locking to Nintendo Switch software". So very good news should you want to import some Nintendo Switch games!
What's In The Box
Possibly one of the most important questions, what is included with the Nintendo Switch console? In the box you will expect to find L and R Joy-Con controllers, Joy-Con wrist straps, the Joy-Con grip, the doc for your Nintendo Switch, a HDMI cable and an AC adaptor.
There will be two models available for purchase at launch, one with grey Joy-Con controllers and one with neon red and neon blue. Both models are the same price so gamers are spoilt for choice here!  The Pro controller however is sold separately.
Console Specifications
Now here is the techy part. The Switch has a 32GB hard drive, this can be expanded by using microSDXC cards, (which sounds nice and easy). The screen is 6.2 inches with "multi-touch capacitive touch screen" features. It can support a resolution of 1280 X 720. The screen on the tablet itself supports 720p maximum, however it can support 1080p resolution when docked and outputting to your TV.
The battery life of the tablet has been confirmed to last between 2.5 and 6.5 hours depending on what game you are playing.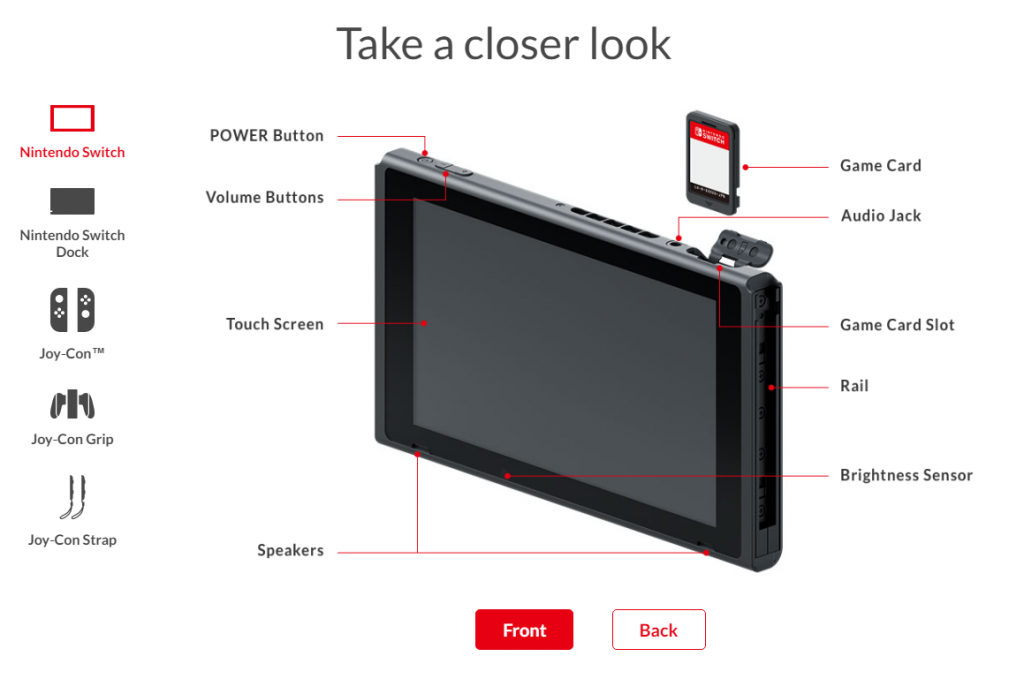 The Joy-Con controllers
The Joy-Con controllers feature A, B, X and Y buttons. They also include L and R shoulder buttons and a home button. The attachable wrist straps that are included with the controllers also make the L and R buttons more prominent, making for easier gaming on the go.
Each of the controllers has an analogue stick (which also functions as an additional button) and a new capture button. This button can be used to capture screenshots and will be able to capture video at a later date. These screenshots and videos can be shared with friends and family on social media.
Both of the controllers have inbuilt accelerometers, gyrosensors, and an "HD rumble system" this will add a new levels of sensitivity to motion based gameplay. The R Joy-Con controller will have an inbuilt motion-IR camera that will be able to sense motion, shape and distance of any object in front of it.
The prices for individual Nintendo Switch controller sets and peripherals are as follows.  The Joy-Con controller set will cost £74.99 ($79.99). The individual L and R controllers will cost £42.99 ($49.99), the Joy-Con charging grip will cost £27.99 ($29.99) and the Pro controller will cost £64.99 ($69.99)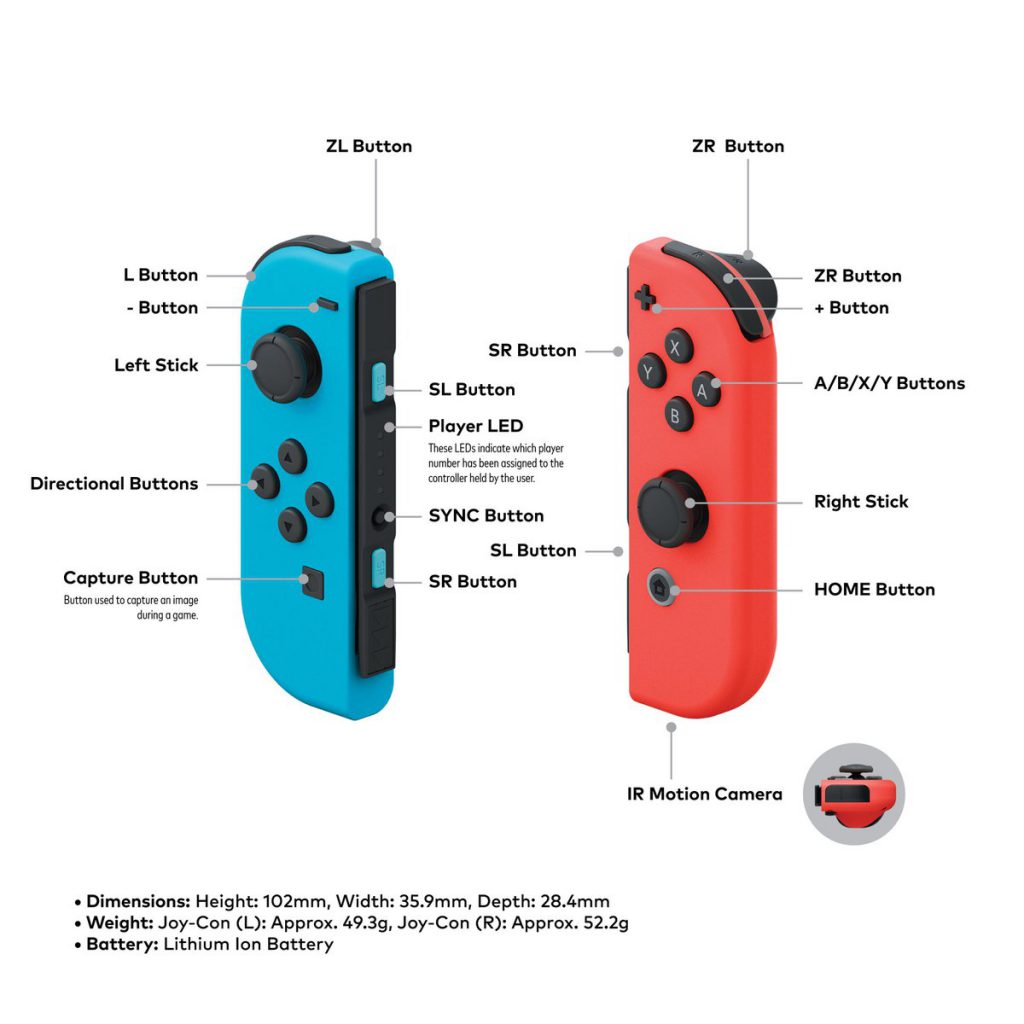 Games Coming To The Switch
Possibly the news that a lot of gamers have been waiting for, here is a list of games coming to the Nintendo Switch.

1st Party Nintendo Switch Game Launches
Super Mario Odyssey
1-2-Switch
Arms
Splatoon 2
Snipperclips
Mario Kart 8 Deluxe
Pokemon Stars
Fire Emblem Warriors
Xenoblade Chronicles 2
Project Octopath Traveler (New Square Enix RPG)
The Legend of Zelda: Breath of the Wild
3rd Party Nintendo Switch Game Launches
Just Dance 2017
Rime
Puyo Puyo Tetris
Project Sonic 2017
I am Setsuna
NBA 2K18
Syberia 3
Has-Been Heroes
Minecraft
Minecraft: Story Mode
Farming Simulator
FIFA
The Elder Scrolls V: Skyrim
STEEP
LEGO City Undercover
Skylanders Imaginators
Rayman Legends
Disgaea 5
So that's all we know about the Nintendo switch so far. We cannot wait until it is finally released on the 3rd of March 2017.