In case you were wondering, yes, Sniper Elite 4 will be releasing a collector's editon of the game on the 14th of February. The good news is that it is packed full of awesome Sniper Elite 4 goodies. The bad news is that the collector's edition is exclusive to Australia. So if you plan to but it you either need to be in Australia or import it.
Sold by EB Games the Sniper Elite 4 Collector's Edition will include:
A copy of the game
An exclusive steel book case
A 4GB bullet-shaped USB key
Four Sniper Elite 4 postcards
In-game DLC Karabiner 98k Origami model rifle
Seven in-game DLC camo rifle skins
The DLC Target Führer campaign mission!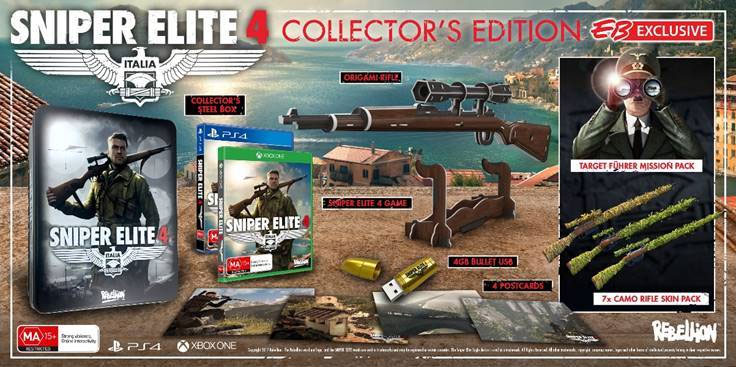 In the Target Führer campaign players will be once again taking control of OSS Agent Karl Fairburne as he Targets a secret Nazi U-boat facility.
The Sniper Elite 4 collector's edition will be released by EB Games on the 14th of February 2017 for PlayStation 4 and Xbox One.