Some arguments cannot be settled using traditional methods.
Following a fierce argument here at Green Man Gaming, we needed to find out who the ultimate shooter gamers are. Are CounterStrike players the top guns? Maybe the massed warfare of Battlefield made the best soldiers? Could Call of Duty be providing the pinnacle in FPS player?
Once the CoD fanboys had stopped yelling about 60 frames per second, the BF players had stopped harping on about Frostbite and the CS:GO gamers in the office had stopped waving a chart they'd printed off from SteamSpy we decided we needed neutral territory to figure out who the best FPS players are.
We took the fight to gaming's equivalent of Switzerland.
We have decided the greatest shooter players by comparing their skills at Stardew Valley.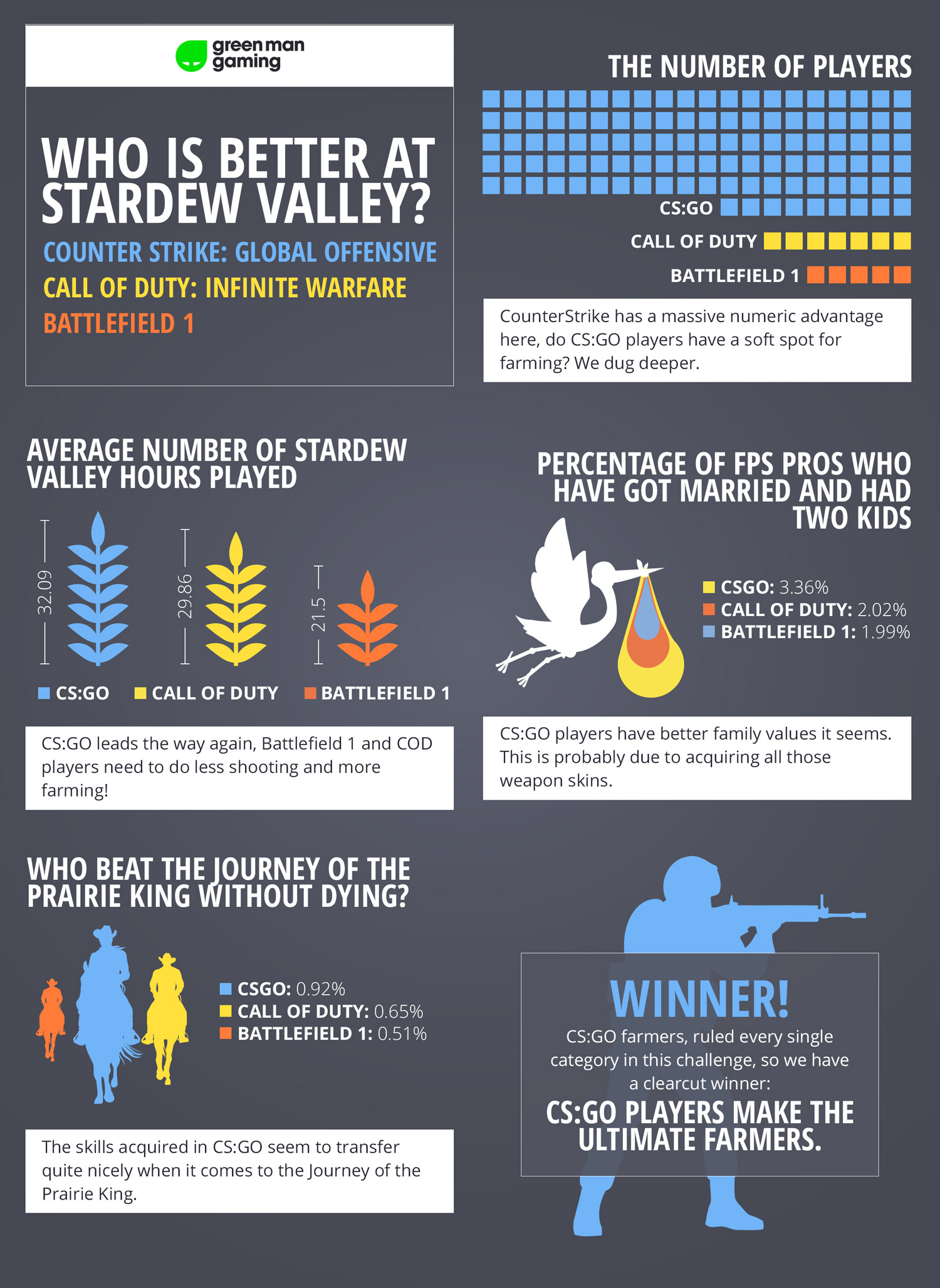 Green Man Gaming FPS Champions
The number of players
CSGO: 47,109
Call of Duty Infinite Warfare: 2,930
Battlefield 1: 2,154
CounterStrike has a massive numeric advantage here, and maybe that's an indication of the story to come, or maybe it indicates that a typical CS:GO player has a soft spot for farming. We dug deeper.
Average number of Star Dew Valley hours played
CSGO: 32.09
Battlefield 1: 29.86
Call of Duty Infinite Warfare: 21.5
CS:GO leads the way again, but what's obvious here is that Call of Duty players seem to be more bothered about reaching their next Prestige level than building their farm and finding every stardrop in the Valley. Get your priorities straight people, the FPS championship is on the line.
The Full House – Percentage of FPS pros who have got married and had two kids
CSGO: 3.36%
Battlefield 1: 1.99%
Call of Duty Infinite Warfare: 2.02%
Evidently Battlefield warriors are less bothered about settling down than their opponents, but it could cost them dearly in the long run. CS:GO players are a different matter however, as their training in acquiring weapon skins has clearly given them an advantage when it comes to acquiring a family.
Who beat the Journey of the Prairie King without dying?
CSGO: 0.92%
Battlefield 1: 0.51%
Call of Duty Infinite Warfare: 0.65%
Well that settles it. While Battlefield players are clearly more dedicated to their farm than those who prefer Call of Duty, they simply aren't that interested in staying alive. CS:GO farmers however, ruled every single category in this challenge, so we have a clearcut winner:
CS:GO players make the ultimate farmers.