Black Desert Online has released its Savage Rift game mode. In this game mode players must defend the Sealed Tower from waves of monsters. If you are into your tower defence and are an avid Black Desert Online player, then Savage Rift is for you.
Who Can Play Savage Rift?

The Savage Rift game mode is available to players who are Level 56 or above. Be aware that a maximum of ten players will be able to participate in a Savage Rift event. Games will start automatically if at least eight players have joined. Once the 4th wave of monsters has been defeated then other players are able to join in on the action.
How Does Savage Rift Work?

Raids will last for about 30 minutes, with a total of 25 waves of monsters to defeat. The raid will end either when the Sealed Tower you are defending is destroyed, all players are defeated or the waves of monsters have been vanquished.
Each wave will be stronger than the last with some waves even including bosses such as Red Nose and Giath. Make sure you take down these bosses when you can as you will get the chance to loot them for rare items.
Points Mean More Defence And Also Prizes
When you take down any monster during Savage Rift you will be rewarded with points. These points can be used to purchase exclusive Savage Rift items that will help you on your ongoing quest to protect the Sealed Tower. An example of one of the many weapons you can purchase with these points can be seen below.
Note: Savage items that are purchased can only be used during Savage Rift.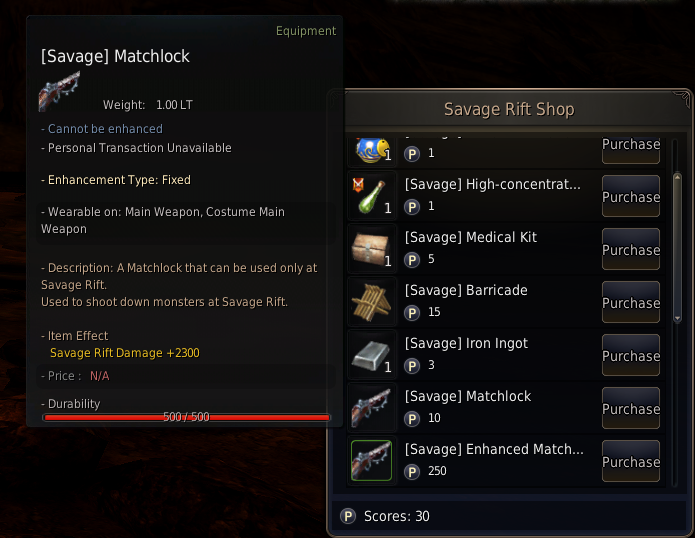 Points can also be transferred between team members should you want to help a buddy out. You can even have multiple team mates transfer points to one team member in order for them to purchase a better weapon. This could be a tactical advantage should you want one member of the team to focus on flying enemies such as Harpies, with the best weapon possible.
Points will also need to be spent on items such as medical kits, as resurrection spells do not work in Savage Rift. It is also worth noting that defeating bosses will also resurrect team members as well.
Rewards

Players will be rewarded for completing Savage Rift. If players are able to pass stage four they will receive some Gold Ingot and Combat XP in relation to what stage they reach. If you are able to complete Savage Rift and protect the Sealed Tower through all of the 25 stages you will receive the maximum of 70 Gold Ingot for your team. Taking down bosses will also reward you with additional rare items and boss gear, just make sure you hit the boss at least once to reap the rewards once it has been defeated.
Now you know what to expect from Black Desert Online's Savage Rift game mode, why not give it a go and let us know what stage you manage to make it to in the comments section at the bottom of the page.