Worlds Adrift, the sandbox MMO from Bossa Studios, is firing people into the sky to celebrate the launch of the game into Early Access.
Well, 'firing' is a bit of a strong term. They'll be hoisting people up 150ft into the air on a specially made skyship, all to play a bit of Worlds Adrift. Here's a video where the Bossa team talk a little about about the real life skyship they've put together:
I don't know about you, but that sounds absolutely terrifying. But I'm a person who struggles with standing on a chair, so maybe being hoisted into the sky isn't the best idea for me. But fear not, we'll have eyes on the ground (or an eye in the sky) in the form of Kayley, who'll be attending the event on our behalf to brave the skies all for you. Our hero.
If you want to keep up with our sky adventures, check out our Instagram during the afternoon of the 17th of May. But if you miss it, hop along to our Youtube channel as we'll be putting up some highlights there.
If you want a little look at what the skyship might look like, Bossa have released some concept art showing off the plan for the ship: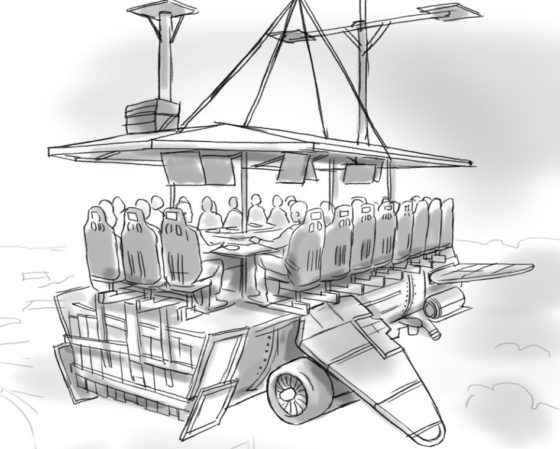 The clouds being under the ship don't exactly fill me with confidence. Just as well I'm not going near it!
The Launch Event will be happening in London above the Chelsea College of Arts, and you'll be able to watch it all on the Bossa Studios Twitch if you can't make it down, between 12pm and 6pm BST on May the 17th:
Worlds Adrift is moving into Early Access on the 17th of May, and you can buy it from us for a launch discount of 10% right here. You can also watch the launch trailer for the sky-bound MMO here: