The Women in Games WIGJ Esports Awards have recently announced their best presenter award; James Banks, a man.
Women in Games WIGJ describes itself as 'a not for profit organisation that works to recruit more women into the games industry and to support those already in the industry.'
The inaugural esports award for Best Presenter was given to James Banks, a veteran presenter and commentator. According to Women in Games WIGJ, this award was given for being 'a top presenter and, very importantly for his support for women'.
Concerns over this award were raised shortly after it was announced initially focusing on the fact that an organisation whose goal is to raise women's profiles in video games gave an award to a male, instead of other, equally qualified women.
"That's why this situation is so frustrating," esports presenter Elle Osili-Wood told BBC Newsbeat. "I was one of only two female presenters invited by WIGJ to speak at the esports event, and I can think of so many other women who should have been sat beside me."
Concerns also arose due to Women in Games WIGJ confirming this award being given for both presenting and advocacy, despite an existing advocacy award existing and the wording for this award specifically calling out presenting ability.
Previous tweets by James Banks have also caused concern in the video gaming industry regarding his suitability for an award of this nature: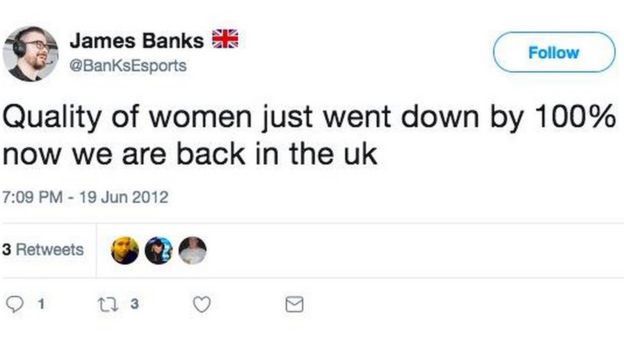 In a statement to BBC Newsbeat, James Banks said the following: "I can do better."
"The language I used was childish, and never intended to be anti-feminist, though I can understand the impression that they have created.
"I sincerely apologise for any offence I may have caused.
"Having worked alongside incredible women in the space, I have always been a champion of women in esports both in-game and in-business, which shall continue.
"Esports as a whole is better off being more inclusive."
BBC Newsbeat also confirms that this issue was not discussed internally, a source from Women in Games WIGJ stated "As a board member, I didn't approve this decision.
"As far as I know, nobody on the board was consulted about giving this person an award or whether we should give it to a man. There was no discussion.
"We were told on the day. It's a serious misstep that undermines all the great work everyone does for WIGJ and overshadows the amazing conference we've just had.
"The way the organisation is run needs an overhaul and the board needs to be included in all decisions, not just some of them."