To say that Middle-earth: Shadow of War is a considerable upgrade compared to its predecessor, Shadow of Mordor, would be an understatement. Shadow of War has built upon the game mechanics from Shadow of Mordor to bring an even more thrilling gameplay experience. These upgrades don't just cover the Nemesis system, they cover every aspect of the game from the open world, to Talion and Celebrimbor's combat.
During my hands on time with the game, I was tasked with the straightforward mission of taking over a Nemesis fortress. Nemesis Fortresses are just one of the many upgrades to the Nemesis system. In Shadow of Mordor you were tasked with overthrowing procedurally generated Warchiefs in order to take back Middle-earth from Sauron's clutches. Shadow of War takes this a step further as you have to take back Middle-earth by usurping Nemesis Fortresses.
Fortresses are strongholds full of Warchiefs, Uruks, beasts and heavy artillery. Attacking a fortress is done by taking over key areas within it and then coming face to face with the Overlord in an attempt to usurp them from their throne. Thanks to the Nemesis system the Overlord and their respective Warchiefs are procedurally generated with their own stats and attributes. Each Warchief also brings their own fortress defence, just to make things a little bit more challenging. For example one of my Warchiefs, Norsko The Pickler, had installed fire spouts for defence. Where as other Warchiefs had brought with them things like poison siege beasts and a whole army of berzerkers. The Overlord, Garl Caragor Slayer, had also built up the defences with stonewalls, making the fortress fireproof. This wasn't going to be easy.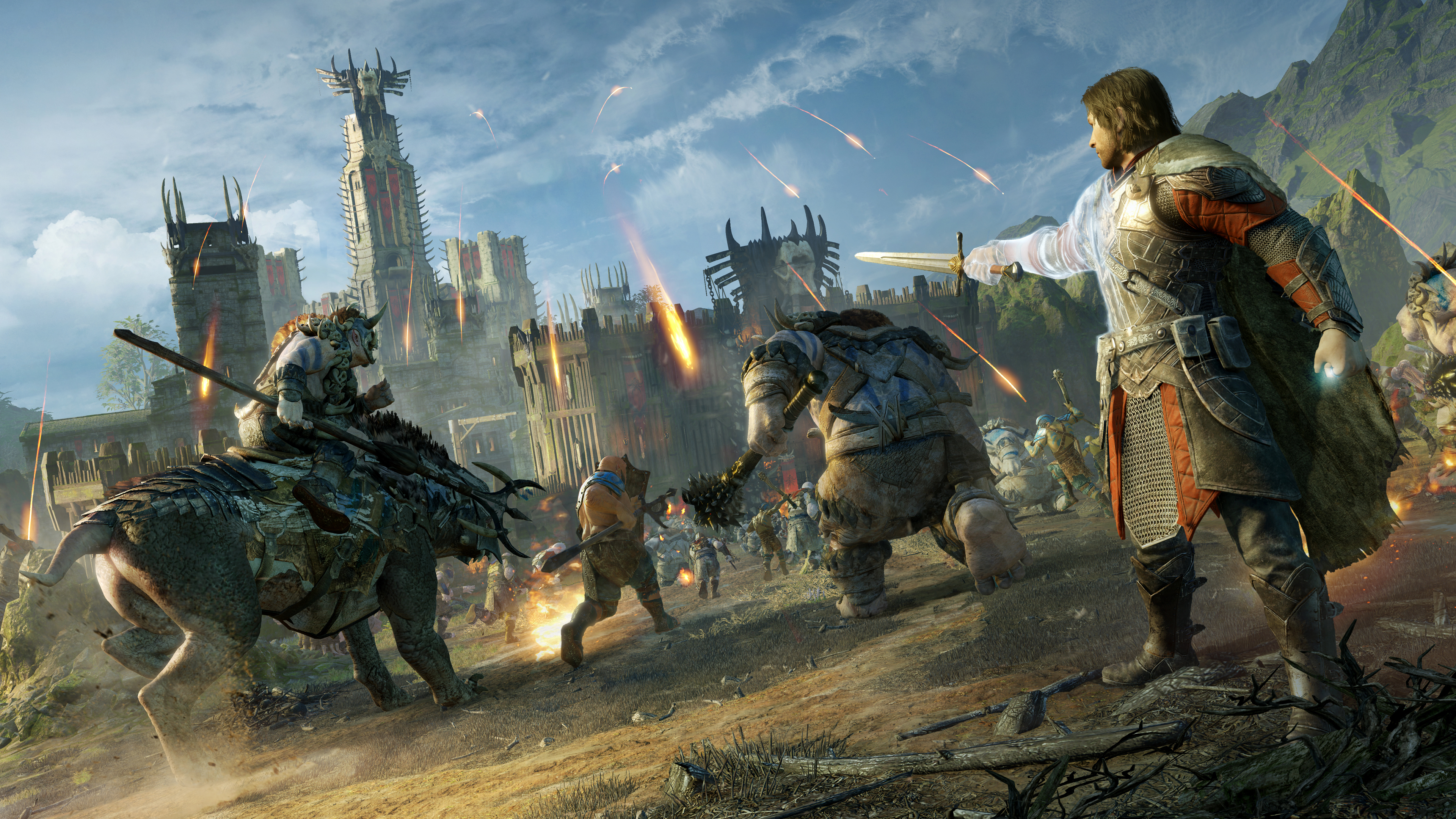 The Nemesis system doesn't just affect your enemies in Shadow of War, it also affects your army. In Shadow of War you are able to recruit Uruks to fight your cause by using Celebrimbor's wraith powers to bend their will in battle. For my run I had a couple of my own Warchiefs to back me up. I had Ur-Hakon Man-Stalker, Krosh Corpse Eater and my personal bodyguard Thrack Archer Trainer. What made Thrack especially useful was the fact that he was a commander, this means he was able to summon troops as back up if needed.
Much like the enemy had built up their own fortress defences, I was also able to add attributes to my army to build up my offence. I chose cursed siege beasts, War Graugs which could knock down stone walls, mounted cavalry and savages, who are effectively Uruk bezerkers. Once my army was how I liked it, it was time to infiltrate and take over the fortress.
How you breach the main gate of the fortress is entirely up you. My tactic was to take out one of the opposing poison throwing siege beasts guarding the wall, then use Celebrimbor's abilities to posses the beast and have it turn on its own army. This plan went off without a hitch, however things started to turn against me when a couple of wild Drake's turned up and started to burn everyone and anyone in sight.
You can easily get overwhelmed in Shadow of War, so tactics are vital to overthrowing these fortresses. Careful planning and knowing your enemy will soon become second nature to players who have been playing the game for a while, for me however I found myself trying to mainly stay alive. Luckily I was able to tame one of the Drakes and set fire to a fair few things giving my army the upper hand. During the battle I also got used to a few more of Celebrimbor's abilities which have had a huge upgrade. As Talion and Celebrimbor are more of a partnership this time around, there have been several wraith abilities which have been added to Talion's move set, all of which can be levelled up. There is a ground pound attack which can be combined with the element of your choice, in my case fire, as well as Celebrimbor's hammer which can be used as a sort of wraith boomerang. Celebrimbor has also been given a new weapon in the form of a spear/halberd which is able to take out a load of Uruks in a timely manner. These are just some of the new moves I was able to use in the demo, with a lot more which can be unlocked as the game progresses.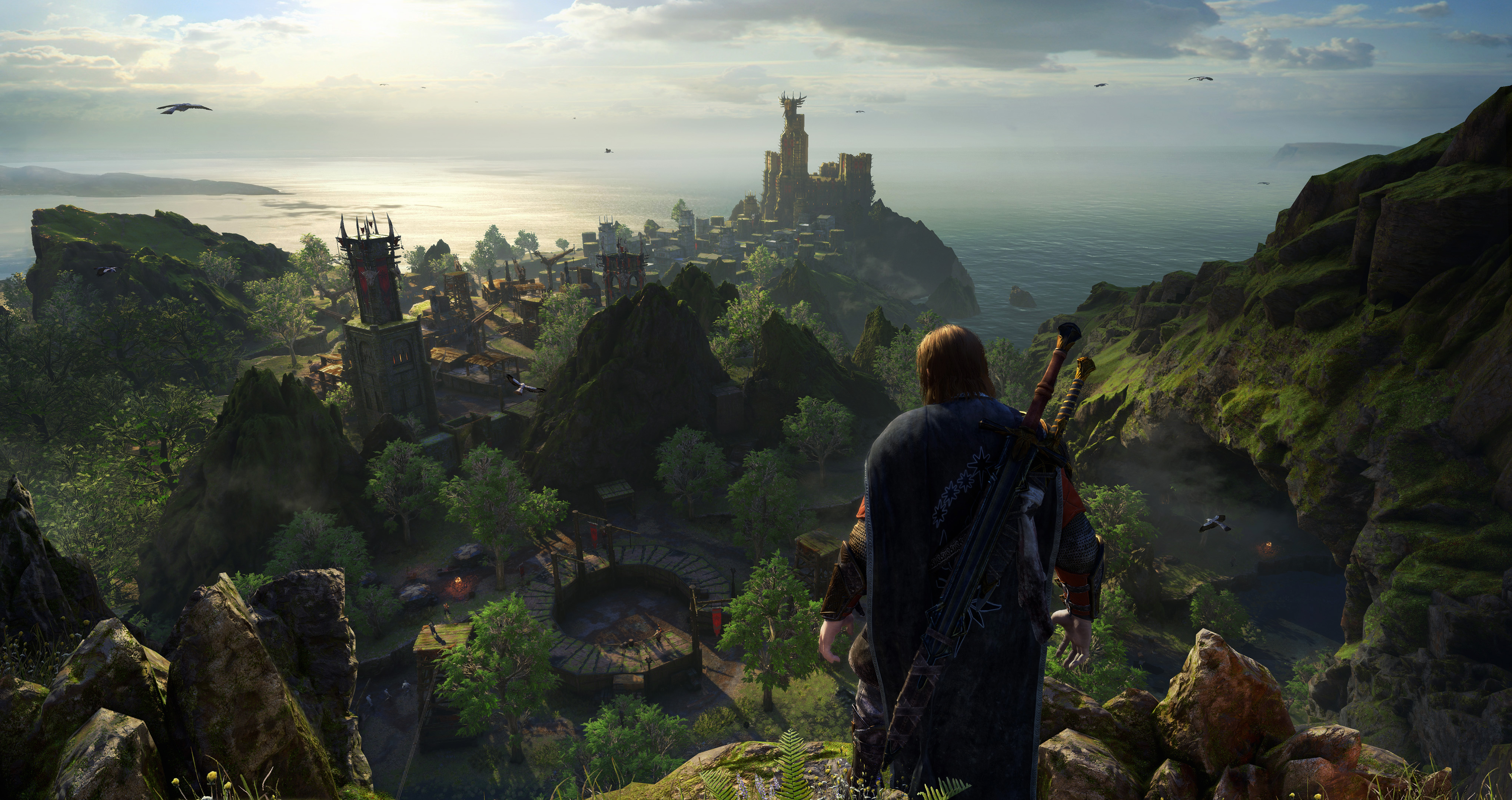 Finally, after taking down half an army, three siege beats, two drakes and a handful of Warchiefs I was able to take on the Overlord. Garl Caragor Slayer was a beast of an Uruck who rode a Caragor. His stats stated that he was enraged by Caragors and cowards, he was arrow proof and was extra strong against Caragors and other beasts. To say this boss fight was a challenge would have been the understatement of the year.
Garl had decked out the main hall of the fortress in with his own tribal flare, much like Gaston from Beauty and the Beast, his decoration featured a lot of antlers. Each Overlord will uniquely theme their own throne room, and also equip it with various traps and hazards. As Garl was primarily a beast rider, there wasn't much in the way of traps this time around.
As you can imagine Garl was not easy to defeat. Put simply, I died. I was overwhelmed by his cronies and was tossed around like a rag doll several times. As taking him one on one wasn't going to work I decided to recruit the help of my buddy Urad, Thrack Archer Trainer. I summoned Thrack, who was also able to summon in some back up due to his Commander status. After a heated battle, Thrack managed to save the day and landed the final blow on Garl, killing him once and for all.
After Talion gave a victory speech and presented Garl's head as a trophy, the time had come to select a new Overlord for my recently acquired fortress. It will come to no one's surprise that Thrack got promoted to Overlord which gave him a nice level boost and he was able to make the fortress his own. Taking over fortresses unlocks a region of Mordor which is free for Talion to explore.
Middle-earth: Shadow of War is a huge upgrade from its predecessor. Even though we only got a chance to experience one of the many things you can do in Middle-earth, we can safely say that Middle-earth: Shadow of War will be a hard title to beat this year.