As NBA 2K18 is out next week we thought we would go ahead and break down the MyTEAM feature. There have been a plethora of new features added including two new game modes. Check out the break down below.
Player and Coach Packs

This year NBA 2k18 has a draft mode where you will be able to select players for your team. The draft mode can be compared to your classic trading card game, in that you will be given packs of cards to open and within those packs you will find top NBA players.
Peter Cornforth, the Associate Producer for NBA 2K18 stated in a dev blog, that "the fun of a pack draft is the excitement of building the best team possible with what you are given. Sometimes the universe throws you all-around superstars and sometimes it throws you role-players and unproven rookies." The developers believe that this is the most realistic way of drafting new players into your team, as you have to focus on what you have in order to create the best team. There will be five position slots for gamers to choose from for your squad, so make sure you make the best decisions for your team and your lay style.
Coaches are also featured in card packs and play a bigger part this time around, one of the game modes that feature in NBA 2K18 will feature a new proficiency tech that will optimise teams on eight different systems. So the coach you pick from the pack will determine which system your team will run on. You need to make sure if your players are a good fit for your coach and vice versa. The players you select will have an effect on your proficiency system so bear this in mind when selecting your squad.
Playoffs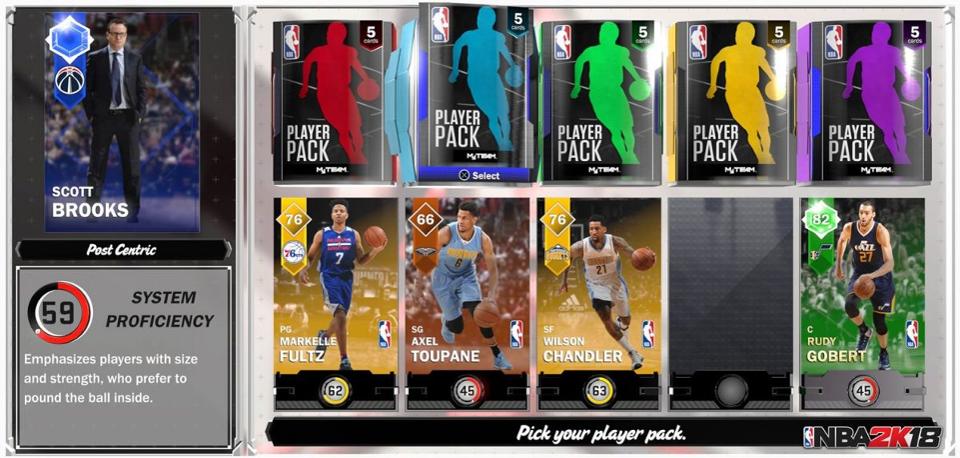 Playoffs consist of 5 on 5 games against other drafted teams. There will be four rounds of games which will then lead to the finals, each of the four rounds is a best of seven elimination where if players win four games they will advance to the next round, where as if you lose four you are eliminated. Every time you advance you will get to draft new players into your squad should you want to.
Prize boards will be making a comeback from MyTEAM blacktop as well as the addition of new exclusive players that you will not be able to get anywhere else. The prize ladder has also been added, so the further you advance in the playoffs, the better the prize you will receive.
Super Max

Super Max levels the playing field for everyone who is playing NBA 2K18. This feature adds a salary cap and season gameplay to competition online. This in turn creates an experience which will stay fun for all players. Each time a new round starts the cap in salary will be updated and players will have to build the best team possible with the cards that come under the salary cap.
Super Max incorporates a system that adjusts individual card cap values based on how often they are used by players. So if everyone uses the same card the cap value for that particular card will increase, if a card is popular enough it will then hit "super-max" levels.
The Super Max game mode itself will be a 13-man roster online game. In order to start this game mode players will be put into placement matches to determine their skill. From there you will be placed into a league with other players who are at the same skill level, this means you will always be paired with other teams that are at a same skill as yourself.
The more matches you win, the better your skills which means you will be able to progress through the leagues and have a shot at being the ultimate NBA 2K18 champion.
---
That is just some of the new features that are coming to MyTEAM in NBA 2K18. You can grab your copy of the game right here from the Green Man Gaming store.