Introducing the Tom Clancy Bot, the brand new droid that uses only the best Tom Clancy Technology!
Each feature has been specially selected from the best Tom Clancy games and films in order to create the ultimate Recon Machine! If you don't believe us, then here are what a few well known gaming icons had to say about the Tom Clancy Bot!
Solid Snake: "I was up against the Tom Clancy Bot, and within seconds the world turned to black and I heard the words 'Snake? Snake SSNNNAAAAAAAAAAAKKKEEE!?!' over my intercom."
Agent 47: "The Tom Clancy Bot is unstoppable, it saw through all of my disguises, including bald chef, bald bus driver and even bald bell boy!"
Ezio Auditore da Firenze: "I couldn't get away from The Tom Clancy Bot fast enough! He even caught me after I jumped off of a 80 foot high tower into a bale of hay!"
Mario: "When I finally got to the castle I was told my princess was already saved by the Tom Clancy Bot."
You've heard it from the pros, now here are some of Tom Clancy Bot's key features!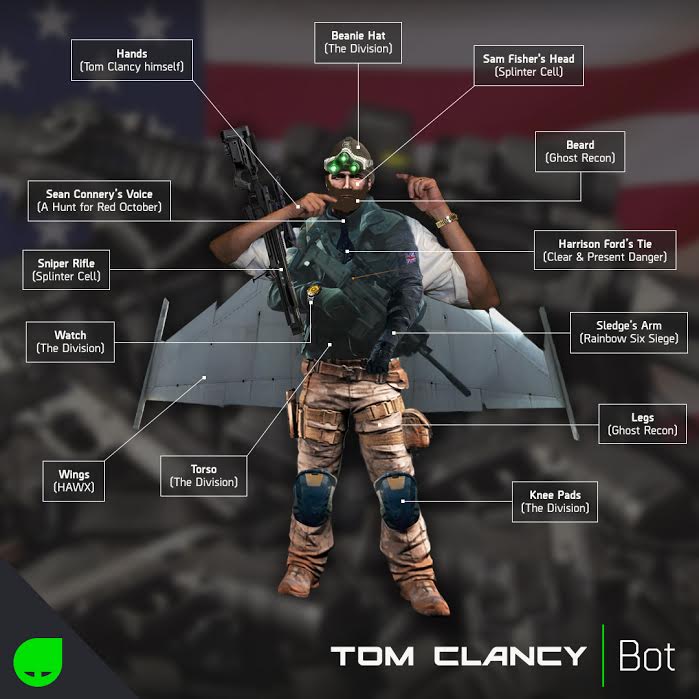 Beanie Hat – We all know that the beanie hat is the best item in The Division so it would be silly not to include it.
Head – Sam Fisher's head from Splinter Cell, perfect for night vision and stealth.
Beard – Most characters in the Ghost Recon games support the manliest of beards. It's probably good for camouflage too.
Voice – The smouldering voice of Sean Connery from the Tom Clancy film, The Hunt For Red October "A great day comrades, we sail into history!"
Tie – The tie Harrison Ford's Character wore in the Tom Clancy film 'Clear and Present Danger', every commando needs a hint of business casual.
Wings – Wings from HAWX so he can take flight with ease.
Torso – This torso from The Division is perfect as it doesn't let other people clip through you. Handy!
Arms – Sledge from Rainbox 6 Seige has arms made of steel that can smash through walls. Who needs a door when you have these beasts for arms?
Hands – Tom Clancy's hands are the very hands that have written the novels these games were based on. In order for his legacy to carry on someone will have to keep writing.
Watch – This time piece from The Division is stylish and sports quite a fetching orange motif. It's perfect for any mission and gives fitness trackers like the fit-bit a run for their money.
Sniper Rifle – The Sniper rifle is the weapon of choice for most if not all of Tom Clancy's characters. Perfect from a distance and a much needed tool for infiltration missions.
Legs – These legs from Ghost Recon are built for speed and speed alone. How else do you plan to tackle tough terrain?
Knee Pads – Soldiers in Tom Clancy games find themselves in need of knee protection, from Rainbox Six to Ghost Recon it seems that knee pads are imperative to survival.
The Tom Clancy Bot is available now for $999,999,999.99 from all reputable Tom Clancy Outlets*
*After rigorous testing it was discovered that the Tom Clancy Bot had developed it's own consciousness and subsequently had to be put down. Fear not however as the Ghost Recon Wildlands beta is live today with the full game coming out the 7th of March. True, it's not Tom Clancy Bot, but it will give you a taste of the potential this droid had.